Introducing the Meadows
In October 2019, Piper Shores purchased a stunning, 45-acre property, situated almost directly across from the Piper Shores campus. Named The Meadows, Piper Shores has envisioned and planned a new footprint for growth that challenges the conventional view of retirement housing to encompass the needs of the emerging generation of retirees. Piper Shores has hired a leading architectural firm to design 52 exquisite homes and apartments, plus a clubhouse, complete with restaurant/bar, fitness center, clinic and movie theater. Last spring, The Meadows received all necessary approvals from the Town of Scarborough. Subject to finalizing construction costs, Piper Shores plans to break ground in late 2020 with completion in 2023.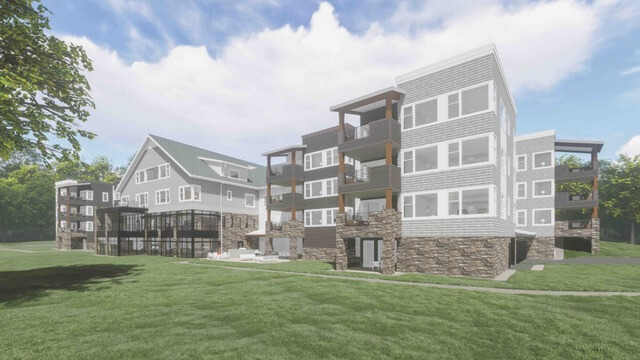 Offerings at The Meadows
The Meadows expansion represents an important realization of the Piper Shores strategic plan which identified a need for increased independent living options at Piper Shores. The architectural designs include 3 small neighborhoods, with a total of 52 homes and apartments, surrounded by a visually appealing landscaping of open space, water features, and nearby trails and nature preserve for recreational enjoyment.
The first neighborhood encompasses 8 estate-style homes that range in size from 1,992 square feet to 2,651 square feet. These are free-standing homes with up to three bedrooms, den, large open living spaces, 2-car garages, and 2nd floor options.
The second neighborhood includes 16 cottage homes that range in size from 1,454 square feet to 1,852 square feet. These are 2-bedroom or 2-bedroom with den duplex cottages with 2-car garages.
The third neighborhood encompasses 28 apartments that range in size from 1,085 square feet to 2,438 square feet. The apartment homes feature one- to three-bedroom options with one underground parking space per home. Apartments are attached to the Clubhouse building which includes a variety of amenities. Residential design features include porches and decks, cathedral ceilings, large windows that maximize sunlight, walking paths around the property, as well as building orientations that minimize car and road visibility and maximize gardens and community green spaces. In addition, the property abuts existing trails for walking, snowshoeing, and cross-country skiing.