Holbrook Wayland House Memory Care
Holbrook's Wayland House Memory Care offers the secure environment and compassionate care that allows family members to be family again – not nurses. We ensure your parents' or other loved one's safety while respecting and promoting their dignity.
Our PersonFirst® approach to memory care focuses attention on the individual needs, personality, and desires of each of our residents. As with all areas of Holbrook, we make it possible for our Memory Care residents to safely enjoy all that the Piper Shores community has to offer.
The Maine Health Care Association recognized Holbrook's commitment to innovative memory care by awarding Holbrook with its Innovative Programming Award for Memory Care Planning and Development. By walking in the shoes of others, our staff can better understand the unique needs of those with dementia or memory impairment and provide a more compassionate, personalized care experience.
You'll find that we've made Wayland House as home-like as possible.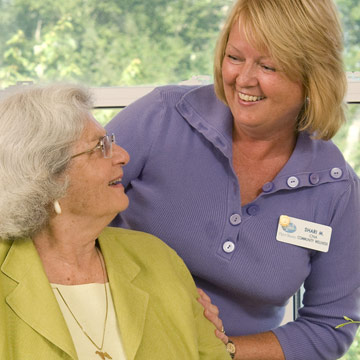 In Their Own Words
Family member of Holbrook resident
"The nursing staff at Holbrook really took time to get to know our mother. The care was excellent, and she was treated like one of the family."