Leanne Fiet has been visiting Maine for the last 15 years. This time, thankfully, she won't be leaving. Leanne, her husband John, one golden retriever, and one brown tabby cat, packed up their New Jersey home and moved this month to Falmouth, so that Leanne could assume the newly created position of chief operating officer at Piper Shores. Her first day on the job was Monday, June 4.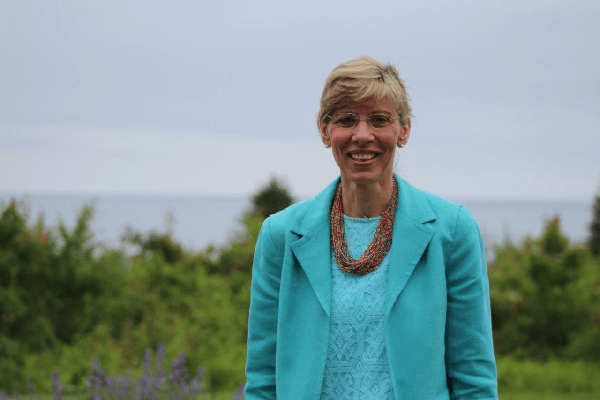 "I am so delighted to be here," said Leanne in a recent interview from her new office. "My husband and I have long dreamed of moving to Maine, but we never thought we would find work here." Unbeknownst to Leanne, a perfect job was being created at Piper Shores.
In a letter to the Piper Shores community, CEO Jim Adamowicz welcomed Leanne, extolling her as "a well experienced executive leader [with] more than 20 years of senior care experience," including independent living, assisted living, skilled nursing care, and memory support care residences. Leanne's most recent professional experience was as administrator at Parker Monroe, a highly regarded nonprofit senior living and memory care community.
Leanne, a native of Michigan, comes to Piper Shores with a distinguished career in health care management and executive leadership. She spent fifteen years with a senior care management company; eleven years with an acute care hospital system; and seven years with a residential care special needs community. Her educational background includes a bachelor's degree in special education and teaching from Hope College and a master's degree in human services administration from Rider University. Her volunteer work includes board service with a New Jersey affiliate of Habitat for Humanity; Riverview Estates, a faith-based senior care community in southern New Jersey; and Health Care Association of New Jersey.
In her new role as Chief Operating Officer, Leanne will provide operational support to the CEO, and assume oversight for Piper Shores' operations, including facilities, environmental services, and food and nutrition.
Leanne says she was drawn to Piper Shores for a number of reasons. "Over the course of my career, I have discovered that I thrive in person-centered environments where I can develop lasting relationships, and this is the kind of environment I see at Piper Shores." When she read the job description for the new COO role, Leanne admits she wasn't seriously looking for a new position. "But as I inquired more deeply, I began to hear what people were saying about the Piper Shores community, and it sounded like a values-based, mission-driven organization where I would fit in."
Leanne and her "semi-retired" husband made the decision to uproot their lives and make the move to Maine. Leanne says her husband will assume responsibility for finding a suitable home for the couple to purchase. "John loves to explore Maine, so searching for a home for us is a perfect assignment." For now, they are settled temporarily – with their four-legged friends – in an apartment in Falmouth.