Piper Shores Celebrates National Volunteer Week by Hosting Volunteer Opportunities Fair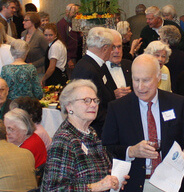 Piper Shores will host a Volunteer Opportunities Fair on Wednesday, April 9, 2014 from 11:00AM to 2:00PM in the newly constructed Founders Room. In recognition of National Volunteer Week, Piper Shores' Volunteer Opportunities Fair seeks to connect caring individual volunteers with nonprofit organizations from the Greater Portland community.
The Volunteer Opportunities Fair will provide potential volunteers with a convenient opportunity to talk with as many as 30 local nonprofit organizations at a single venue. (See list of participating nonprofit organizations).
Unique volunteer fair connects area nonprofit organizations with community volunteers
"Piper Shores and our 300 residents are committed to social accountability and volunteerism in our community," said Jim Adamowicz, Piper Shores CEO. "Many residents at Piper Shores actively volunteer their time and energy with organizations throughout the Greater Portland community. Often, the only way people learn about volunteer opportunities is through word of mouth. We wanted to create a venue where the whole community could come and learn about many different organizations that are looking for volunteers. All of these organizations are doing important work and rely on the generosity of its neighbors to help them achieve their goals."
The timing of the event is planned to coincide with National Volunteer Week. Running from April 6-12, 2014, National Volunteer Week is about inspiring, recognizing and encouraging people to seek out imaginative ways to engage in their communities.
The Piper Shores Volunteer Opportunities Fair on Wednesday April 9, 2014 is free and open to the public. The Fair is scheduled from 11:00AM to 2:00PM in the Founders Room on the Piper Shores campus. If you would like more information about attending or exhibiting at the Piper Shores Volunteer Opportunities Fair, please call Anne Brennan at 207-510-5211.