More than 30 nonprofit organizations expected on Piper Shores campus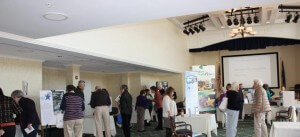 The Piper Shores Volunteer Opportunities Fair is coming again! This year it will take place on Wednesday, April 15, 2015, from 10 AM to 2 PM in the Founders Room. The Fair is part of our expanding emphasis on life enrichment and provides a convenient opportunity for our residents to come together and meet with as many as 30 local nonprofit organizations at a single venue.
The Volunteer Opportunities Fair illustrates our increased emphasis on life enrichment and the many dimensions of wellness. This holistic approach seeks to ensure a healthy balance between eight unique dimensions of wellness: emotional, social, spiritual, financial, physical, intellectual, occupational and environmental.
"Last year's fair was a hit," said Andrea C. Killiard, Piper Shores Marketing and Life Enrichment Director, "but even more importantly, we were able to successfully connect dozens of members of our community with local nonprofits that are in need of volunteers." One resident is now serving as a member of the Scarborough Police Volunteer group," said Killiard. Others are volunteering for local land trusts, helping out at animal shelters, and summer day camps.
Here are some of the Southern Maine nonprofits you will have the opportunity to meet:
Animal Refuge League of Greater Portland
Boys and Girls Clubs of Southern Maine
Cumberland County Emergency Management Agency
Scarborough Police Department – VIPS
Friends of the Scarborough Public Library
Southern Maine Agency on Aging
Scarborough Marsh Audubon Center
Volunteerism is an essential part of the strategic plan at Piper Shores because evidence is mounting about the enormous value that volunteerism and community involvement play in every person's wellbeing. Along with volunteering, Piper Shores' emphasis on life enrichmentalso includes our business series, where residents have the opportunity to tour and participate in talks at top local businesses and nonprofits, such as the Gulf of Maine Research Institute, IDEXX, and Maine Medical Research Institute. It also includes social outings, such as visits and lectures at local museums and dinners at local restaurants.
The goal of Life Enrichment is to work with what residents want, but also to occasionally offer the unexpected. At the end of each day, Life Enrichment aspires for our residents to say, "My life is really full."
The fair coincides with National Volunteer Week (April 12-18), which was originally established in 1975 by President Richard Nixon as a way to recognize and celebrate the efforts of volunteers.