Starting to plan for your retirement? Wondering when is the best time to sell your home? Will you be able to sell in what has been a difficult real estate market over the past several years?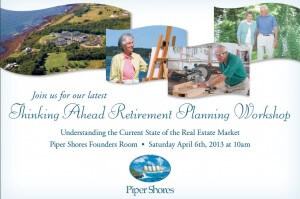 On Saturday, April 6 at 10:00 AM representatives from RE/MAX Oceanside of Cape Elizabeth will visit Piper Shores to host a "Thinking Ahead Retirement Planning Workshop" focused on the current state of the real estate market and how it affects retirement planning.
"We are currently experiencing a market shortage for homes in the 300,000-400,000 dollar range," said Frank Strout, RE/MAX Oceanside agent. "This presents an excellent opportunity for potential sellers who may be considering a move to a retirement community in the next several years."
During the workshop, real estate experts Frank Strout, Steve Seabury, Vicki Kennedy and Doug Schauf will discuss this and other topics such as what's selling and what's not; what are the median prices for homes in the region; what are the average number of days a home sits on the market in local communities; and what are the advantages of staging a home?
For more information about the workshop, or to reserve your space, call Anne Brennan at 207-510-5211.