Saturday, June 16 Bigelow Arts Center
The show will take place in two locations on campus, including the newly constructed Bigelow Arts Center.
On Saturday, June 16, Piper Shores will throw open the doors on its annual Summer Solstice Resident Art Show, which draws a large audience of artists and art lovers each year to the Piper Shores' campus. This year, for the first time ever, the show will take place in not one, but two locations on campus – in the Great Room of the main building and in the newly constructed Bigelow Arts Center, a 2,800-square-foot art studio, which opened in February.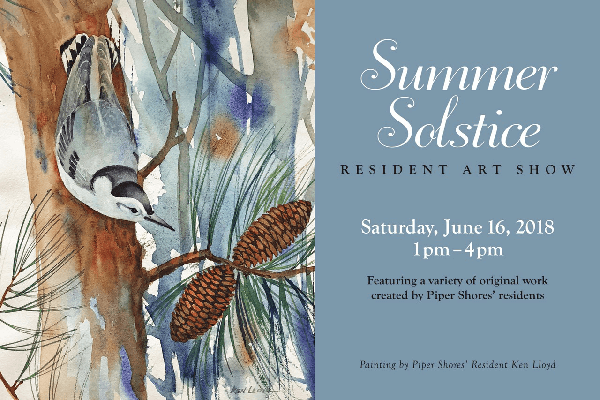 The Bigelow Arts Center provides spacious studio and gallery space for Piper Shores' residents, offering equipment, materials, and workspace for a wide variety of artistic mediums, including painting, watercolor, fiber arts, and ceramics. The Bigelow Arts Center fulfills a longtime dream to offer a dedicated venue for artistic expression and learning at Piper Shores.
"The evidence is clear that staying active and engaged is key to healthy living and healthy aging," said Piper Shores' CEO, Jim Adamowicz. "The Summer Solstice Resident Art Show is an emblem of that creativity, and the Bigelow Arts Center now provides a vibrant location for residents of all abilities to be creative all year long."
This year's art show will again feature works of original artwork created by a talented pool of Piper Shores' residents and waitlist members. Mediums include oil paintings, sketches, watercolors, collage, knitting, needlepoint, ceramics, and more. The event is open to the public and the artists will be on hand to share their works. The resident art show had been an annual event since the founding of Piper Shores in 2001. It was put on hold for the last two years while Piper Shores underwent an expansion of Holbrook assisted living and memory care and the construction of the new arts center. A large turnout is expected as the show resumes.
Featured Artist: Ken Lloyd
Resident artist Ken Lloyd's deftly painted watercolor of a white-breasted nuthatch has been selected as the featured artwork this year. The beautifully rendered artwork, which graces this year's promotional poster, can be viewed at the show.
Lloyd, a retired General Electric engineer says he and his wife Martha moved to Scarborough 14 years ago, and this year on Valentine's Day, they moved "three miles up the road" into a Piper Shores apartment. "The transition has gone very well," says Lloyd with a smile.
Lloyd grew up in Worcester, MA, and got his start painting in his 40s. He took some lessons, but says practice has been his best form of instruction. Lloyd enjoys the relaxation that comes with painting, and he likes to visit the Arts Center in the evenings to work on his craft. Ken and his wife are also active volunteers for Hospice of Southern Maine and Partners for World Health. Ken has given his artwork to hospice staff members and has donated paintings to nonprofits for fundraising auctions.
"I paint whatever strikes my interest at the time," he confesses. Old structures, such as barns, sugar shacks, and wharfs are of interest, as well as wildlife. He says that shadow is an essential part of his artistic equation. "When I'm out, if I see something, I will take a picture of it or make a sketch, and then come back to work on it."
The nuthatch watercolor took time to come into being. Lloyd says he painted a random vertical pattern and then studied it for an inspiration. "I was trying to see what it suggested to me," he adds. Once the nuthatch idea was decided upon, the line pattern became trees. "The painting took a number of days to complete, but it probably took me longer to figure out what it was going to be than it actually did to paint it."
To see Lloyd's nuthatch watercolor and the other artworks on display, please visit the Piper Shores' Summer Solstice Resident Art Show on Saturday June 16, from 1-4 PM.