This past April Piper Shores invited the real estate professionals from ReMax Oceanside of Cape Elizabeth, Maine to present a workshop focused on the state of the real estate market and how it has affected retirement planning. Recently, Piper Shores asked ReMax Oceanside for an update on the Southern Maine real estate market.
ReMax Oceanside reported that there continues to be a lack of inventory in the $300,000 – $400,000 price range in the Southern Maine market. They note, however, that more properties have come on the market priced in the $400,000 – $600,000 range. Likewise, luxury properties that had been slow to sell in prior months have now started to gain traction in the market. As a result, the median sales price has risen, and the number of days a home sits on the market has declined dramatically.
Below is a chart showing median home sales prices for towns adjacent to Piper Shores comparing May 1-October 20 in 2013 with the same time period in 2012, along with the current average days on market for homes in each town.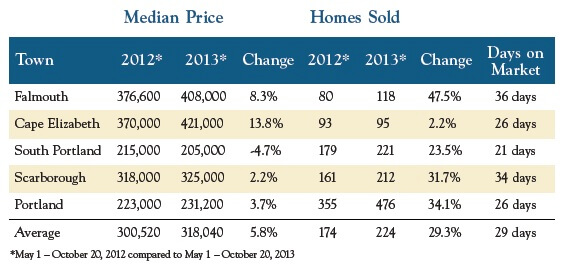 The chart shows that the median home sales price in these select Southern Maine communities has risen by 5.8% in 2013. More dramatically, the number of homes sold during this time period has increased by 29.3% over the same period in 2012. With the average number of days a listing remains on the market falling to 29 days, the numbers suggest a robust, improving real estate market, even in the face of rising mortgage rates.
Nationally, the average 30-year mortgage rate hit a low of 3.45% in April of 2013. Since then rates have risen a full percentage point to an average of 4.5%. While the rise in rates does not appear to have dampened demand, ReMax Oceanside notes that each 1% rise in mortgage rates on a $250,000 mortgage increases the monthly payment by $162. That marginal increase makes a difference in terms of how much home a would-be buyer can afford. The potential bad news is that rates are projected to rise another 1% to an average of 5.5% by the latter half of 2014, according to the National Association of Realtors.
So, what does this mean to retirees considering a move to Piper Shores in the near future?
With improving market demand and historically low interest rates, now is an excellent time to prepare your home for sale. At minimum, preparing your home for sale means making sure that it is spotless and looks well maintained. "Curb appeal is important," says Vicky Kennedy of ReMax, "but don't go crazy. Too often, we see homeowners invest in property improvements that simply do not pay dividends when it comes time to sell." She also advises speaking with a realtor before getting your home ready for sale. A realtor can provide quality, free advice on little things you can do to improve the appeal of your home to potential buyers.
If you do decide to list your home for sale, you also need to be prepared to move somewhat quickly. If a sale requires a move prior to your independent living residence becoming available at Piper Shores, ReMax Oceanside may be able to help you find a short-term rental, noting that rentals at nearby Higgins Beach are both available and relatively inexpensive this time of year.
For additional information, see a related Portland Press Herald article, Home Sales in Maine Rise Sharply.