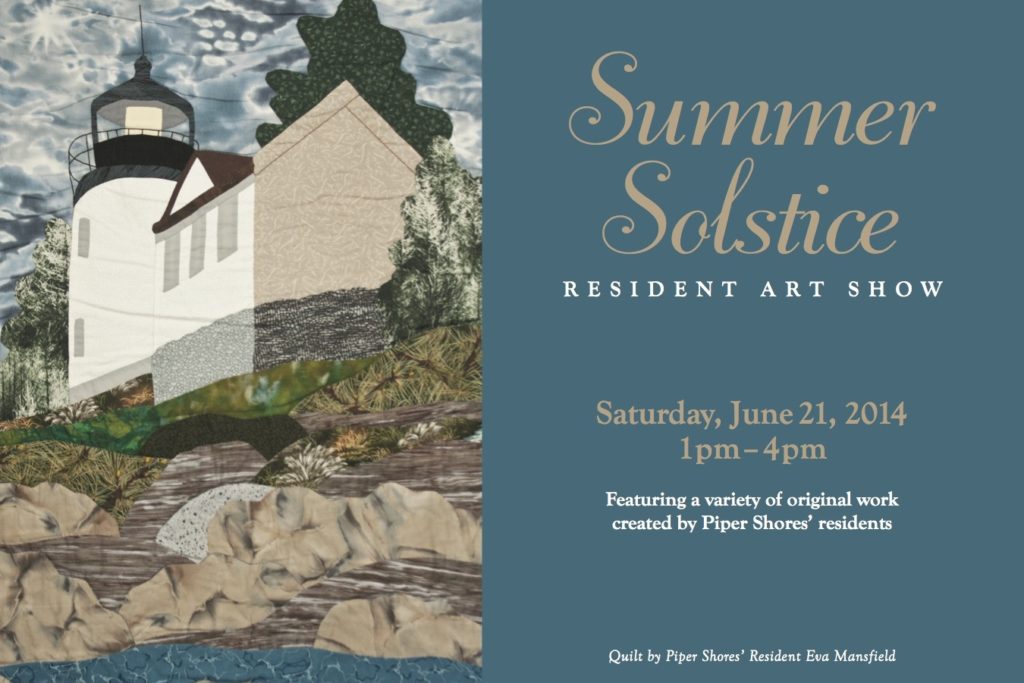 Piper Shores' will host its 12th Annual Summer Solstice Resident Art Show on Saturday, June 21, 2014, from 1 to 4 p.m. in the Great Room. More than 25 Piper Shores' residents plan to show their original artwork.
"The resident art show is one of the highlight events of the year," said Andrea Killiard, Marketing Director at Piper Shores. "It's a wonderful kick-off–to- summer event that allows so many of our talented residents to share their creativity with other residents and the larger community, too."
Eva Mansfield, an avid quilter, is one of this year's featured artists. Her quilt was selected to help promote the art show on posters and postcards. "It's a really beautiful piece that captures such an iconic Maine landscape scene as its central theme," said Killiard.
"A stroll through the art show is truly like taking a walk through a fine art gallery and perusing some really beautiful and inspiring pieces, Killiard continued. "We have many residents engaged in the arts here at Piper Shores and those that decide to exhibit their pieces work in a variety of mediums from watercolors, oils, photography and quilts, ceramics and more."
"The Art Show is also a fun opportunity to showcase to visitors what Piper Shores has to offer in a casual atmosphere. They can walk around the property and talk to residents and really capture the essence of Piper Shores," concluded Killiard.
During the afternoon of the art show, participating residents will be on hand to discuss the inspiration behind art. For some the creative journey has been a lifelong passion, while for others it is an entirely newfound endeavor and love. The art show is free and open to the public.