Eleanor's Trail, a Universal Access/ADA Trail in Scarborough at Pleasant Hill Preserve, accommodates wheelchairs, walkers, and other assistive devices.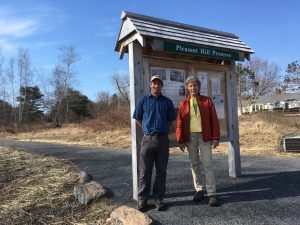 Not far from Scarborough's bustling Route 1 corridor, 5 miles from downtown Portland, and bordered on three sides by vibrant neighborhoods, sits a tranquil 135-acre parcel of land that was farmed continuously for over 180 years. Pleasant Hill Preserve is a combination of forest, field, meadow, and wetland. The land provides diverse habitat for wildlife, particularly migratory birds, small mammals, and wetland wildlife. An old metal barn offers an annual nesting site for hundreds of barn swallows. The property has abundant fresh water, which flows into the Spurwink River. It is situated about 2 miles from the ocean and Piper Shores.
Thanks to a $2.5 million campaign led by the Scarborough Land Trust (SLT), this rare open space has been preserved in perpetuity for people to enjoy and for the protection of wildlife habitat. Last year, with the help of two grants and a generous donation from Piper Shores, SLT hired a part-time stewardship coordinator to create a long-term management plan for the Preserve, to install a network of walking trails, and to meet growing stewardship needs at all SLT lands.
Toby Jacobs was hired as stewardship coordinator in June 2016 (he was the second person to hold the new position) and he hit the ground running. In less than 12 months, much has been accomplished, including the design and creation of an exciting new 0.3-mile Universal Access/ADA Trail at Pleasant Hill Preserve – called Eleanor's Trail— which accommodates wheelchairs, walkers, and other assistive devices. It is Scarborough Land Trust's first universal access trail, and is part of a growing trend among land trusts to provide greater access to people of all physical abilities.
In his new role as stewardship coordinator, Jacobs has assembled trail committees, vetted proposals to build and design trails at Pleasant Hill Preserve, and worked with noted landscape planner Terrence J. DeWan & Associates to create a master trail plan for the Preserve. He worked on trails at SLT's 156-acre Warren Woods property, and engaged OBP Trailworks to design and build the universal access trail. Eleanor's Trail, completed last December, is now open to the public.
Scarborough Land Trust Executive Director Kathy Mills says the decision to hire a part-time stewardship coordinator was critical and came just as the land trust completed the purchase of Pleasant Hill Preserve. This year, as the land trust marks its 40th anniversary, it celebrates 1,500 acres of conserved land, a new website, and a strengthened process for updating management plans for its other conserved lands.
"With a growing number of conserved properties, we needed staff boots on the ground to help manage Pleasant Hill Preserve, and our other lands," said Mills. "Our very active volunteer stewardship committee remains a critical part of this important work, as do the dozens of volunteers who pitch in at work parties. We are grateful to Piper Shores for seeing the value of the new, part-time stewardship position and helping to fund it," said Mills.
Meet Toby Jacobs
Jacobs says his work at the land trust has been great, and the new property at Pleasant Hill is a wonderful asset. "It's a diverse mix of fields, forest, and farm history, and after we complete a cleanup of the property, there will be a nice juxtaposition of these elements including remnants of three working farms," he said. Highlights to look for include old fences, apple trees, stone walls, an old metal barn at the end of Eleanor's Trail, and a signature American elm at the entrance to the Preserve.
Jacobs has a master's degree in conservation biology and has spent over a decade working for environmental organizations both in Maine and abroad. He has surveyed the City of Portland's trees, managed volunteers in urban gardens, monitored shellfish areas for the Maine Department of Marine Resources, and managed conservation projects in Costa Rica and Honduras. Today he holds concurrent part-time stewardship positions at Scarborough Land Trust and the Presumpscot Regional Land Trust. He also serves on the Board of the Freeport Conservation Trust.
How to Get Involved – Volunteers Needed!
Eleanor's Trail is now completed, but trail building at Pleasant Hill Preserve is far from over. The master plan calls for more trails, bog bridges over wet areas, and some trail signs, which Piper Shores woodshop volunteers have contributed for other SLT properties. In fact, in 2014, the woodshop team created 47 handmade wooden signs for Fuller Farm Preserve and Sewell Woods.
"Residents of Piper Shores have been very supportive of land trust projects over the years and we are so grateful for their support," said Mills. "We hope they will continue to be involved with many aspects of our work, not the least of which is to visit our properties, walk the lands, and enjoy the trails that they helped to make possible."
Saturday, May 6, from 9 AM-noon, SLT will hold their annual Spring Cleanup to get all their properties ready for the year.
In late May, trail building at Pleasant Hill Preserve will begin.
To get involved and for more information call 207-289-1199 or email Toby Jacobs at tjacobs@scarboroughlandtrust.org.