Edward Campbell, Jr. was one of 32 recipients statewide honored at the 2023 Remember ME Recognition Ceremony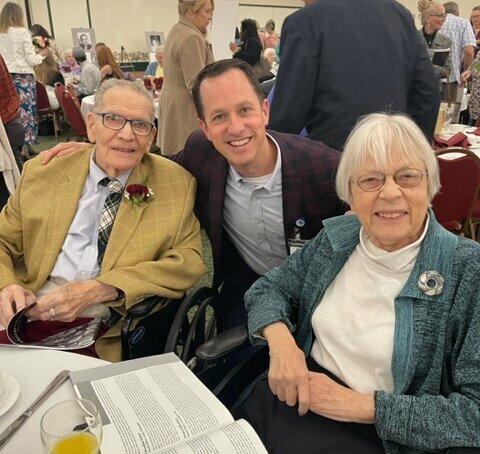 Edward "Ted" Campbell Jr., age 91, was chosen to receive a Lifetime Achievement Award at the Maine Health Care Association's (MHCA) 20th Annual 2023 Remember ME Photography Exhibit & Recognition Ceremony, which took place on Tuesday, May 9th at the Augusta Civic Center. Every Maine long term care and assisted living community had the opportunity to nominate one resident who has a historically significant background for this state-based project. Awarded to residents aged 73 to 98, these men and women are decorated and accomplished war heroes, mothers and fathers, and community leaders such as nurses, educators, and small business owners. Ted was one of 32 recipients chosen from a pool of 63 distinguished applicants to be recognized at the ceremony.
Ted was also recognized, along with all the 2023 Lifetime Achievement Award Recipients and Honorable Mention winners, in the 2023 Remember ME program booklet, which features biographies and black and white photographs. The honorees were selected by a panel of judges based on each nominee's personal story, how they overcame adversity, or how they engage with their community. Judges also considered age, gender, geography, past facility participation, and adherence to nomination criteria in making their decisions. The primary purpose of Remember ME is to salute those who have dedicated their lives to caring for families, fostering communities, and serving their state and country. This project also urges the public and key lawmakers to remember the selfless contributions made by our elderly and disabled citizens who now depend on others for their care and safety. Since its inception, the Remember ME program has recognized over 700 long term care residents statewide.
Nominated by Piper Shores for his outstanding history in education, archaeological excavations, and book writing, Ted had a designated table at the ceremony, where he celebrated this joyous occasion with his family and close friends. Known as one of Piper Shores' "pioneer" residents, Ted has been with the community for almost 22 years, and is well known for the impact he's made on the campus. Ted helped to establish Piper Shores' Diversity Committee in the summer of 2014, which he still actively participates in today. Ted is also known for his interest in helping others, as well as his love of culture and travel. He lives on the Scarborough campus with his wife Phyllis.
More About Ted Campbell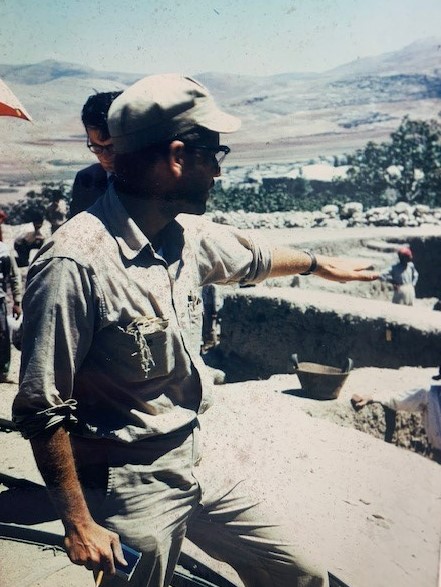 Born and raised in New Haven, Connecticut, Ted received his BA in History from Yale and went on to obtain his MDiv from McCormick Theological Seminary in Chicago, where he was ordained as a Presbyterian minister. Ted's love for the Old Testament and Ancient Near Eastern Studies also led him to pursue a PhD from Johns Hopkins University. While working towards his PhD, Ted simultaneously spent a few summers leading the excavation of the city of Shechem (Nablus in the Palestinian West Bank). Discovered in 1903, this excavation took 70 years, with the last season taking place in 1973. Ted's experience in excavation resulted in him publishing several books including Shechem II: Portrait of a Hill County Vale (1991) and Shechem III: The Stratigraphy and Architecture of Shechem/Tell Balatah (2002). Ted also assisted in the final publication of Shechem IV: The Persian-Hellenistic Pottery of Shechem/Tell Balatah (2008) alongside author Nancy Lapp. In addition to these, Ted wrote the book Ruth (The Anchor Bible, Volume 7) (1975).
After obtaining his PhD, Ted returned to McCormick Seminary to teach and made a tremendous impact on the Lakeview, IL community through the Presbyterian Church. In addition to his work, Ted and his wife were passionate supporters of open conversations about the conflicts between Palestinians and Israelis and ran several discussion groups about the conflict to help increase awareness. After retiring from McCormick Seminary, an endowed chair was named after Ted and his wife in recognition of their longtime commitment to the institution and the Lake View Presbyterian Church. Ted is known as a teacher who cared deeply about his students, community, the Bible, and the suffering of the world.
After he and his wife made the move to Piper Shores in August 2001, Ted became a part of the Maine Council of Churches and also became the Vice President of American Schools of Oriental Research. Ted continues to maintain an interest in nature studies, classical and folk music, and global, national, and local social issues. 
About Piper Shores
Piper Shores is Maine's only nonprofit lifecare retirement community. Built in 2001 in a style that complements Maine's architectural heritage, Piper Shores is located on 138 acres of beautiful oceanfront property, situated between Higgins Beach and historic Prouts Neck in Scarborough, Maine. Piper Shores is an innovative retirement community that promotes the long-term well-being of its residents through a continuum of activities and lifecare services. Piper Shores residents enjoy active, independent lifestyles with guaranteed priority access to on-site assisted living and skilled nursing care, whenever they may need it. Piper Shores is owned by Maine Life Care Retirement Community, Inc., a Maine nonprofit organization formed by a group of accomplished local individuals to deliver the shared vision of creating an ideal retirement community on the coast of Maine. For more information, visit pipershores.com.