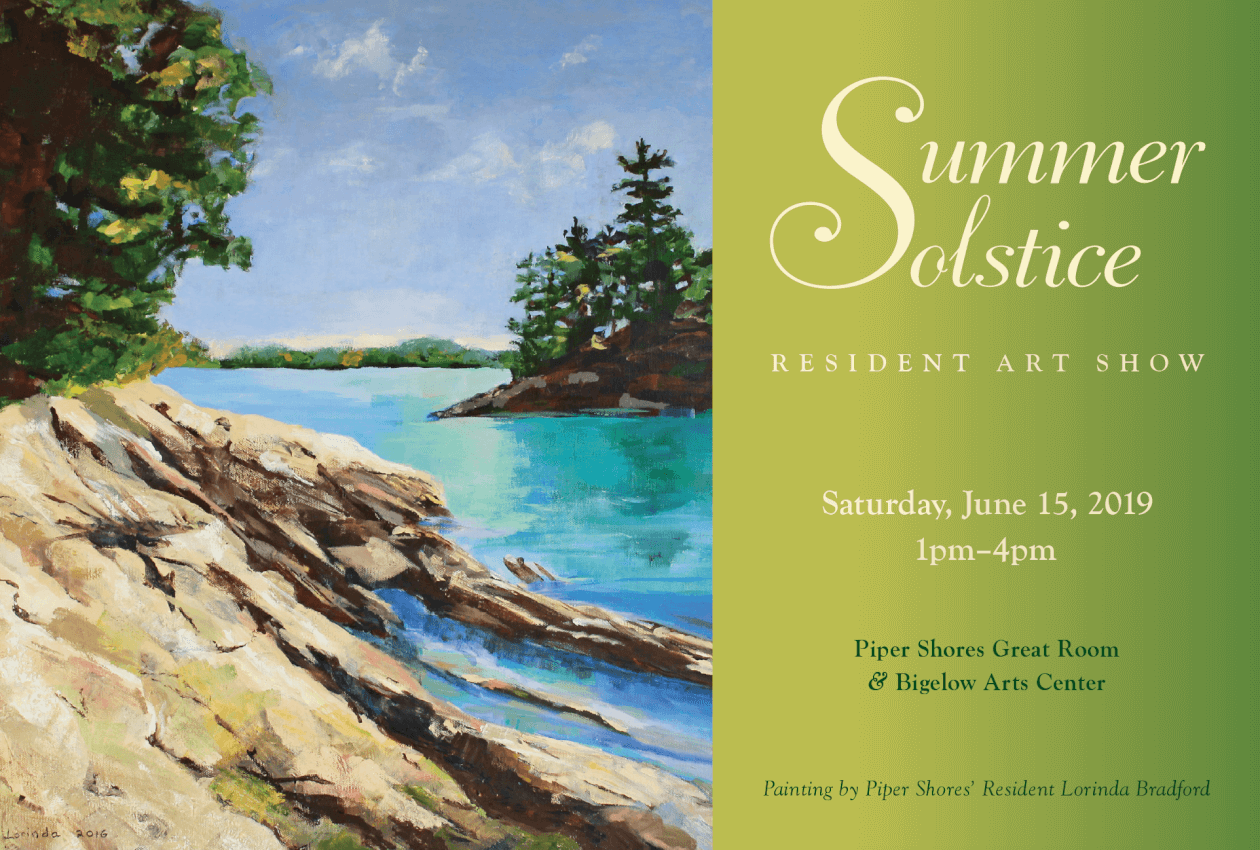 Details:
What: Summer Solstice Resident Art Show
When: Saturday, June 15, 2019 – 1:00 – 4:00 PM
Piper Shores recognizes that there's a strong connection between creativity and wellness. That's why last year Piper Shores celebrated the grand opening of a new art studio and gallery in the heart of our Scarborough campus. A year later, the Bigelow Arts Center has seen significant use and engagement by residents.
On June 15, Piper Shores will open the doors of its art center to celebrate the community's Annual Summer Solstice Resident Art Show. The show, which is open to the public and free of charge, features dozens of original works by a large collection of artists, including this year's featured artist Lorinda Bradford.
Meet Featured Artist Lorinda Bradford
"The effect of painting on me is wellness … I'm doing my thing here, and I couldn't do it at home. I am free for the first time in my life. That gives me the time to paint
Lorinda Bradford was born in Westport, Conn., but she grew up all over the world.
"As a young girl, I probably hit 13 schools in 12 years," she recalls. With a father in the Foreign Service, Lorinda's family was often on the move, living in Cuba, Spain, Costa Rica, Brazil, Italy, and other lands, but she had a few important anchors here in Maine – an aunt in Boothbay Harbor and a summer camp in Casco – that kept her coming back each summer. Eventually, she married a Mainer, raised children in Kennebunkport, and her life became inextricably linked to Maine.
We recently sat down with Lorinda to chat about her life as a painter, her 63-year marriage to John Bradford, and their new life together at Piper Shores. As the featured artist of this year's Summer Solstice Resident Art Show, Lorinda was excited to talk about her newfound interest in landscape painting, and her love of the new Bigelow Arts Center.
Lorinda's featured artwork is a beautiful acrylic painting depicting a glorious summer day at Wolfe's Neck State Park in Freeport, Maine. The large canvas includes granite ledges, turquoise blue water, and towering white pines in the distance.
"I think it's the only place in Maine where you see these colors," says Lorinda, adding that her husband John graciously offered to snap the photograph that Lorinda worked from to create the painting. "I work from photographs as a taking off place," she explains. The final painting is not necessarily a copy of the photograph – Lorinda often moves trees and rocks around to suit her sense of proportion, balance, and beauty.
The Formative Years
Lorinda's journey to becoming an artist is long and interesting. When she was a little girl, she colored like mad. So much so, that she remembers her older sister asking, "When will Lorinda ever learn to read?" Later, Lorinda met an Italian artist living in Brazil who trained her in the formal technique of Italian portraiture. This was when painting began to take a more important role in Lorinda's life. Nevertheless, when the time came to go to college, Lorinda did not choose art school.
"I wanted to go to Vassar, so that's what I did," she says plainly. When an art teacher at Vassar challenged the class to paint something from a blank sheet of paper with no additional direction, Lorinda was stunned. "I was used to having a model in front of me, so I had no idea what to do." As it turned out, there was precious little time for making art at Vasssar, so Lorinda put down her paint brushes and focused on her studies.
After getting married and having children, she would seize upon naptimes to revisit her artwork. She dabbled in needlework and canvas floor cloths. Then, while living in Sanibel Island, Florida, she discovered a very good art program where she enrolled in three classes per week. In Sanibel, she also found another Italian teacher and drew nudes twice a week. Here, Lorinda started to evolve and progress again as an artist.
Finding a Space to Paint
At Piper Shores, painting has become a focal point of Lorinda's life. With a newfound freedom that comes with having no house to clean, no meals to prepare, and no grocery shopping to do, Lorinda has found inspiration to create; and the Bigelow Arts Center has provided a beautiful and inviting space to revisit her passion for art.
"I love it over here. I can come over… put on some pretty music and the hours go by," she says. At Piper Shores, and especially in the new Bigelow Arts Center, Lorinda is painting much more.
"When I paint, it is an immediate escape. I am not thinking about myself or anybody else. It's a puzzle to solve and it's a very pleasant puzzle to solve," she says. Three years ago, Lorinda's artwork took a dramatic turn when she started painting landscapes. "I was doing some small ones on my own and a friend suggested that I 'get bigger.'" It worked and Lorinda's painting started to expand and evolve again.
"The effect of painting on me is wellness and it's just very important. I'm doing my thing here, and I couldn't do it at home. I am free for the first time in my life. That gives me the time to paint."