Q&A with Patrick O'Reilly, Piper Shores Board Chair
After 12 of years working with an outside management company, Piper Shores has decided to transition to a self-management structure with a Board of Directors, CEO and Leadership Team. The purpose of this transition is to enable the Piper Shores local management team to work more closely with and better serve Piper Shores staff and residents.
Patrick O'Reilly, Chairman of the Board of Directors, explains the transition: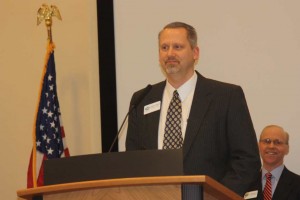 About a year ago, as we approached a change in our Executive Director leadership position, we began to consider our relationship with our outside management company of 12 years. Upon careful consideration, the Piper Shores board decided that a hybrid or self-managed model might be a better fit for our lifecare retirement community. We renewed our contract with the management company for six months in order to make preparations and to ensure a smooth transition to self-management.
What gave you the confidence that Piper Shores was capable of being self-managed?
A big factor in our decision to choose self-management was Piper Shores' exceptional long-term financial stability. Additionally, the senior leadership team has been in place for years, and they have become experts in the industry. Lastly, the Executive Director for the first 10 years of our operation became available to consult with us and oversee the transition. That gave the board and management team the flexibility to conduct a thorough search for a new CEO.
What were the biggest challenges during the transition?
One of our initial challenges was convincing the staff that the transition would run smoothly. We set an aggressive timeline with a goal of switching everything over effective December 31, 2012 to align with our fiscal year. The staff pushed back a bit on the schedule, but we assured them it was possible and maintained steady pressure. The team rose to the challenge, and we completed the transition on time.
The other significant challenge we faced was finding a good fit candidate for the new CEO position. We hired a search firm and appointed a search committee, both of which did an excellent job vetting candidates. Ultimately, the search led us to James Adamowicz, who we feel will be an excellent leader for Piper Shores.
What stood out about Mr. Adamowicz?
Mr. Adamowicz was the favorite candidate of the resident search committee, and he was well regarded by the senior leadership team. We had a number of excellent candidates, and it was a difficult decision, but in the end we knew Mr. Adamowicz was the right fit. He has extensive experience working with single site, nonprofit CCRCs like Piper Shores. At his previous places of employment, he was universally revered by both staff and residents. We felt Mr. Adamowicz was a good listener, provided excellent feedback, had relevant experience and understood the importance of being involved in the day-to-day operations of the community. Overall he has an excellent disposition, and we feel exceedingly confident in his ability to lead Piper Shores into the future.
What are the Board's plans for the immediate future?
First and foremost, we hope to help Mr. Adamowicz get his feet wet, become involved with the community and develop relationships with residents and the leadership team. We are also eager to get his fresh perspective on everything from our long-range strategic plan, to our equipment, facilities and computer systems.
For more information about retirement living at Piper Shores', visit www.pipershores.org or call 207-883-8700.