Piper Shores held a ribbon cutting ceremony and grand opening of the Founders Room auditorium, fitness center, pool, salon and spa on Saturday, March 9, 2013. Over 300 were in attendance including representatives from Senators Collins' and Senator King's offices as well as members of the state legislative delegation.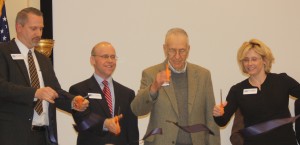 The ribbon cutting ceremony featuring (L-R) Patrick O'Reilly (Board Chair), Jim Adamowicz (Piper Shores CEO), Humphrey Doermann (Resident Council Chair), Peggy Farrington (Piper Shores Administrator)
Piper Shores broke ground on the eight million dollar Master Campus Plan in August 2011. Phase I of the plan was completed in the fall of 2012 and included a new state-of-the-art fitness center, a 55,000 gallon swimming pool, 6-person hot tub, a hair & nail salon and a spa with private massage room. Phase II of the plan was completed in February and includes the construction of a multipurpose auditorium with a dance floor, stage, classroom, and catering kitchen. Renovations including a significant investment in an electronic medical records system at Holbrook Health Center, Piper Shores' onsite skilled nursing center, were also completed as part of the plan.
The new amenities enable residents at Piper Shores and Holbrook to enjoy an expanded array of fitness classes, private training, relaxation and restorative massage treatments, onsite hair and nail services, as well as additional programs, lectures, and events in the Founders Room.
"Over the past 20 months, Piper Shores has made significant new investments in the community designed to meet the needs of an emerging generation of retirees," said James Adamowicz, Piper Shores new CEO. "We believe these the master campus plan positions Piper Shores as the retirement community leader."
For more information about Piper Shores' Master Campus Plan, contact Andrea Killiard at 207-883-8700.