A new report on aging in the Maine Sunday Telegram reveals that Maine has the 8th-highest incidence of falls in the nation, with 18.2 percent of adults age 65 and older reporting that they fell within the last three months. It's estimated that one in three seniors falls each year, yet less than half of them tell their health care providers about it.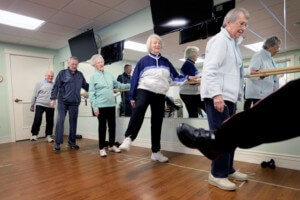 Falls are a serious problem for older Mainers not only because they can cause serious injuries. They also make seniors fearful, which often leads to inactivity, isolation and greater health problems. The good news is that fall-prevention and other fitness programs are offered locally, including Get Fit at Piper Shores, offered at the new Cammock Fitness Center at Piper Shores. This program helps seniors improve balance, flexibility, and core strength, as well as gain confidence and have fun.
So if you have an aging friend or loved one who is not staying fit or is losing their balance, encourage them to sign up for a local fitness program for seniors!