There is another new smiling face on the Piper Shores campus.
Pat Boure, a born and bred Mainer, recently joined the Senior Leadership Team at Piper Shores as Facilities Director. Pat brings over 17 years of experience in a senior facilities management role to the Piper Shores community, with experience in both the education and healthcare industries.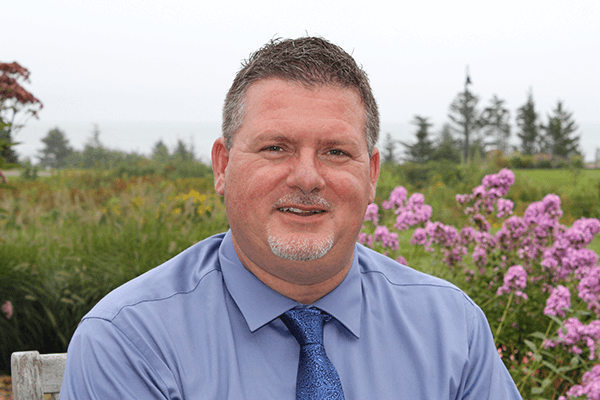 "Piper Shores has always been a beautiful and well maintained place. It's been a long time since I've been back here, so coming back I was like 'wow, this is a truly impressive place when you dial into the campus, it's an eyeopener,'" said Pat.
After spending 11 years in his previous position as Director of Facilities at Waynflete School, Pat was ready for the transition and knew it was time for a change. He explained that he was interested in coming back to healthcare, simply because he enjoyed his previous experiences in the sector.
"It's a very busy, nonstop roller coaster, open 24/7–which presents a different set of challenges–but I was interested in doing it again. It was the right time to make the transition," he continued.
Pat noted that this is his third time holding a position in healthcare facility management, and he looks forward to the familiar atmosphere and conversing with the residents. His last healthcare position was with Wentworth Senior Living (formerly known as The Mark Wentworth Home) in Portsmouth, NH, where he performed similar duties as their Facilities Director. Pat is excited about the size of Piper Shores' campus as well as the exciting challenges it presents for managing something much larger than the previous healthcare facility where he worked.
"I'm in a place where I'm learning everything about the facility, and it's great. Meeting a bunch of new people, and dealing with residents is something I've always enjoyed. They share incredible stories from their life experiences, and hearing some of those stories is so interesting to me," Pat recalled.
At Piper Shores, Pat will be managing a team of 12, and he will be overseeing all facility operations throughout the campus. This includes the 138-acre oceanfront campus, comprising two main buildings and administrative offices, over 240 residence and cottages, a pool and fitness center, a woodshop, The Bigelow Arts Center, and a maintenance building. In addition, Pat will also be managing the integration of Piper Shores' new independent living community, The Meadows.
"My role in the new facility is attending meetings, knowing the ins and outs of construction, and any changes made to the project. Once The Meadows is complete, I will be responsible for overseeing its daily maintenance operations," concluded Pat.
Pat resides in Auburn where he enjoys spending time with his fiancée, Tina, and his family, especially when they host their family BBQs. He also enjoys traveling out of state to warmer places, like Southern Florida. Pat is thrilled to be joining the Piper Shores community, and he is confident in continuing a strong relationship between its Administration and the Residents.