On Wednesday, November 29, Piper Shores hosted a grand opening event to celebrate the completion of a $14 million, 43,000-square-foot expansion of its new Holbrook Memory Care and Assisted Living residences, situated on the 138-acre Piper Shores campus.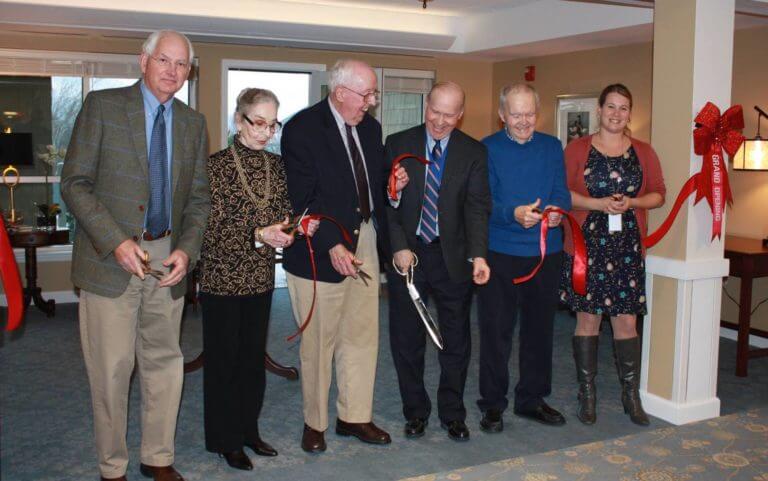 The project took 18 months to complete and is expected to expand the employee base to over 240 workers. The new building provides 14 new memory care residences and 16 new assisted living units designed to meet the needs of current residents as well as members of the greater community. The expansive new building features expertly-designed, home-like living quarters with spacious, natural light-filled common rooms including activity areas for fitness, crafts, cooking, reading, and indoor gardening.
MaineBiz was onsite for the event and they reported as follows:
"The new Holbrook Memory Care and Assisted Living residences at the Piper Shores adult living complex in Scarborough has impressive statistics — 43,000 square feet, 30 new apartments, a $14 million cost and 18 months in the making.
But Piper Shores CEO Jim Adamowicz said the three-story building, and the philosophy behind it, is more about the needs of the 300 residents of the 138-acre residential complex.
As the population at the retirement community increases, the addition was necessary to meet their needs and the emphasis was on doing it in a way that was best for those residents.
"The focus is on health services, but in ways that promote social interaction, promote family interaction," Adamowicz said after a ribbon-cutting ceremony Wednesday.
Piper Shores, on 138 acres in Scarborough nestled in the woods between Prouts Neck and Higgins Beach, has 160 independent living apartments and 40 cottages, as well 40 skilled nursing beds and 20 assisted living apartments. The new building adds 14 memory care apartments and 16 more assisted living apartments, as well as common rooms and areas for fitness, crafts, cooking, reading and indoor gardening. The new building will increase the staff on the campus by 30, to 240.
Wednesday's ceremony drew representatives from the offices of Maine's congressional delegation, local dignitaries and scores of Piper Shore residents."