Since its founding, Piper Shores has been dedicated to ensuring full, enriching lives for our residents. Over the past year, we have focused our efforts on implementing our strategic plan built around Life Enrichment, a comprehensive holistic approach to whole-person care based on a nationally recognized personal care approach, the Eight Dimensions of Wellness.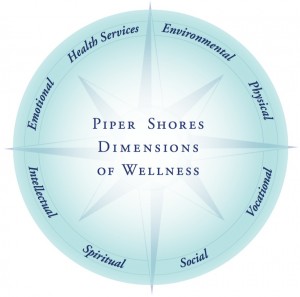 Life Enrichment at Piper Shores is dedicated to the belief that when all aspects of a person's being are engaged and working in balance, the result is a truly fulfilled, engaged and enriching life. Bigger than activities, exercise options, lectures, outings and amenities, Life Enrichment incorporates the mental, emotional, physical, occupational, intellectual, and spiritual aspects of a person's life. Since each aspect of wellness affects overall quality of life, it is important to ensure a healthy balance among them.
Life Enrichment advances the goals established in Piper Shores' strategic plan, and aligns the day to day life of each resident with the larger goal of creating a vibrant, enriching community. Our new dedication to Life Enrichment has already resulted in many positive changes and enhancements to life at Piper Shores. We've enriched our Wellness Lecture Series, increased access to volunteer opportunities in the larger community, and enhanced our transportation services, making it easier for residents to get to doctor's appointments or explore the greater Portland area. We've also updated our generators so that residents will not experience disruptions in electrical services during power outages. We're wrapping up the planning stages for a beautiful new arts building, a dedicated facility for arts and crafts that our many resident artists can call their own, as well for expanded Memory Care and Assisted Living options.