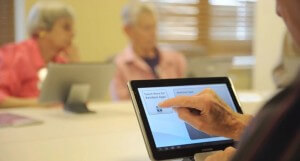 Keeping up with the numerous day–to–day events and activities at Piper Shores can be a challenge for anyone! Which is why a group of Piper Shores resident-volunteers are participating in a pilot program for a new online app called TouchTown.
The Touchtown Resident App is like having a personal concierge at your fingertips. Using the simple, easy to navigate tools, residents can keep up with news and events with the swipe of a finger, using touchscreen tablets like iPads and Droid tablets, or from computers using their favorite web browsers. The Touchtown app is easy to see and navigate, and doesn't require any prior computer experience. All interactive apps provide on-screen prompts with simple instructions, so your residents don't need to remember how to open and navigate various programs.
The TouchTown Resident App makes it easy to keep up with community event schedules, dining menus, announcements and information about organizations, clubs and groups, and also provides convenient access to resident and staff directories. The app even includes fun games to play, like Minesweeper.
Users can access:
Community Info – a customizable listing of Piper Shores' programs and services
Messages – messages sent from staff to residents
Menus – menus from Piper Shores' dining services
Organizations – information about the community's organizations, clubs and groups
Our Channel – slideshow of the community's events and announcements
Photos – gallery of your photos
Resident Directory – directory with resident contact info
Services – customizable service and maintenance requests
Staff Directory – directory with staff contact info
Transit – transportation schedules and requests
Tara Cloutier, Piper Shores' Life Enrichment Manager, is directing the pilot program, and so far the feedback is very positive. "We are hearing that the app is very easy to use, and a great way to keep up with what's going – especially for those residents who do not live in the main building. And it saves a ton of paper!"