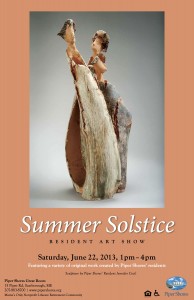 Piper Shores' 11th Annual Summer Solstice Resident Art Show will take place on Saturday, June 22 from 1-4pm in the Great Room. A very popular event with many residents of Piper Shores as well as the area art community, the Summer Solstice Art Show will feature works from a variety of Piper Shores' residents including watercolors, oils, photography, quilts, ceramics and more. This year's exhibition also features an original sculpture crafted by Piper Shores' Resident Jennifer Cecil. Ms. Cecil's sculpture was also selected for use in posters and postcards to promote the art show.
Throughout the afternoon, the artists will also be on hand to discuss the origin of each piece as well as the artistic journey – some beginning long ago, others more recent – that each resident has taken to arrive at this place together.
The Art Show is free and open to the public. Piper Shores, Maine's first and only nonprofit lifecare retirement community, is located at 15 Piper Road in Scarborough. For directions or more information, please call (207) 883-8700.