"Supporting the health and fitness of our aging population is no longer a luxury. In fact, exercise is now seen as a key modality in healthcare," according to Dr. Marilyn Gugliucci, professor and director of Geriatrics Education and Research at the University of New England College of Osteopathic Medicine. Dr. Gugliucci is also director of their U-ExCEL Fitness/Wellness Program for older adults, and a Piper Shores Trustee.
As a gerontologist, Dr. Gugliucci has spent the better part of her career understanding the importance of older adult fitness and wellness. In the early days, she says, there was a distinct lack of interest at medical conferences on the topic. "But now we have come full circle," she exclaims. "It is amazing how much exercise has come to the forefront in older adult care." And the reasons are obvious.
In order to live a long and healthy life, one needs purpose and engagement and to keep the body moving as much as possible. Fulfilling one's purpose is aided by a body that can keep up. Our society has begun to recognize the intrinsic value of exercise, as well as the harmful risks associated with a lack of movement, she explains. "As people get older, they sometimes think they should rest to conserve energy, but that's the worst thing you can do," notes Dr. Gugliucci.
Optimizing Aging
The research around older adult fitness has quickly advanced, and the conversation is moving beyond exercise. "We are now paying attention to various physical challenges of older adults and optimizing capabilities for people who have experienced a health challenge, such as a stroke, arthritis, cognitive impairment, dementia, or who are experiencing limits in range of motion. Fitness activity is not limited to those who are full bodied and able. Anyone willing to try can exercise, and our staff are trained to work with people who are wheelchair reliant or confined to their beds. "Anyone can improve function, whether it be upper body, dexterity or flexibility."
Another area of great concern is balance. Falls represent a $54 billion industry in the United States, says Gugliucci, and many of those falls are preventable. There are a host of reasons why older adults experience balance issues. If people are improperly medicated (or overmedicated) that can affect balance. Vertigo can be an issue. But many people don't realize that core strength is also a factor. People who have lost their core strength have a harder time staying stable. "There are lots of reason for balance issues," says Gugliucci, "but there's much that can be done to help and there's no doubt that certain exercises can improve balance in older adults."
Enriching Lives through Fun and Fitness
In 2006, Piper Shores embarked on a partnership with UNE's College of Osteopathic Medicine Division of Geriatrics. Today, the program has evolved into The Exercise and Conditioning for Easier Living Program and maintains contracts with seven partners across Maine. Piper Shores is the primary and largest U-ExCEL campus. The program serves both Piper Shores and Holbrook residents and is a vital part of the community's life enrichment program.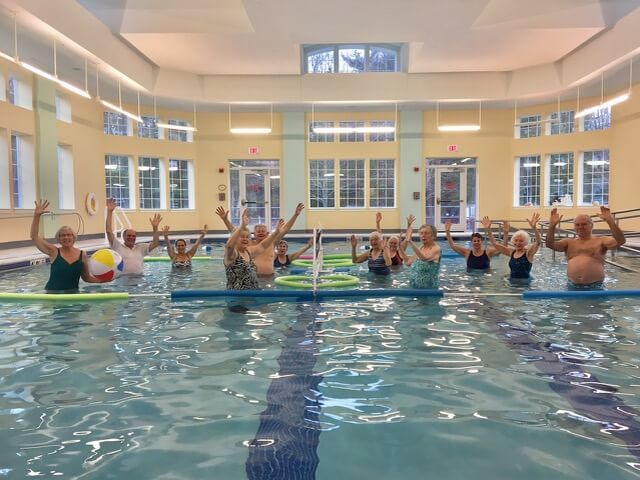 A recent "Attendance Trends" report created by Fitness Director Erica Robertson reveals a substantial and growing commitment to wellness within the Piper Shores community. Total weekly attendance that increased markedly between June 2016 – October 2017, which has steadily increased since 2006. The goals of the U-ExCEL program are threefold: To create a healthful environment; to optimize aging thought fitness activities; and to nurture a social environment.
Attendance Trends Report Highlights Include:
Total weekly attendance grew by over 27 percent, with a record 223 resident visits in October 2017
Strength and Balance participation has been high and steady
Pool Class participation has been steady with a recent increase
Circuit Class is on the incline
Core Dynamics has been booming
Monday attendance increased from 5 to 57 people
Tuesday attendance grew from 17 in June 2016 to 43.5 in October 2017
Thursday attendance rates went from 8 to 29.33
Robertson emphasizes that there are multifaceted reasons for the success of the Piper Shores program, which includes not only resident engagement but also the leadership at Piper Shores. "Commitment to wellness has to start at the top, because regardless of what residents want, if leadership doesn't provide access to fitness and wellness, it simply won't happen."
Fitness Program Offerings at Piper Shores
In 2012, Piper Shores expanded its Cammock fitness facilities with a new swimming pool, spa, and aerobic studio with strength training equipment. Since then, the community has been consistently expanding and improving its fitness offerings to meet the needs of active residents.
"Program offerings are always evolving at Piper Shores," notes Robertson. For example, difficulty levels (beginning, intermediate and advanced) have been added to some classes and outdoor programming – such kayaking, cross-country skiing, snowshoeing – have been put into the mix. Robertson has introduced a water volleyball program that includes competitions at retirement communities in Maine and New Hampshire. She's even looking into adding paddleboard yoga outing at nearby Kettle Cove this summer. Exercise programs are offered five days a week. There are four days of water exercise, and Piper Shores offers initial personal training sessions with an introduction to equipment for no additional cost.
"My job is to listen to what the residents want, analyze the attendance trends, and find ways to keep the programming challenging, engaging, and fun," says Robertson.
Following are the current offerings:
Sit and Fit: A group chair exercise program that works muscles from head to toe to improve strength and flexibility while in a sitting position.
Strength and Balance: A group exercise program that addresses core body strength and utilizes weights to work on upper and lower body strength. A segment of the class is dedicated to conducting balance exercises. Each class begins with a warm up and ends with a cool down.
Core Dynamics: A 30-minute strengthening class that focuses on abdominal muscles, the back, hips and buttocks. The routine for the class is floor-based exercises to help strengthen the essential muscles used for balance, stability and posture.
Tai Chi: A 45-minute class that is slow, graceful and calming. It can provide many health benefits including balance improvement, stress reduction and arthritis pain relief.
Water Walking:A water class designed for walking and incorporating different variations to involve the entire body. Participants are able to follow along easily while working on strength, flexibility and cardiovascular components.
Water Aerobics:A water class designed to incorporate a multitude of variations which engage the whole body. It is faster paced and more exerting than water walking. Exercises include a combination of cardiovascular, range of motion, flexibility and muscular strengthening.
Fitness Assessments: 60-minute individual appointments that will review medical health history, medications and personal goals for health. Baseline measures such as heart rate, flexibility, strength, oxygen saturation, blood pressure, etc., are measured and applied to design a personal exercise program.
At "HOME" (Healthy Outcomes from Managed Exercise): A flexible — yet structured — one-on-one program for nursing home, assisted living, or independent living older adults. It encompasses current medical diagnoses and the individual's health and fitness goals to improve or maintain function. At "HOME" also includes family caregivers.
Personal Exercise Program: A component of the At "HOME" Program. Individuals opting for the Personal Exercise Program have a Fitness Assessment and a Personal Exercise Program designed that is goal-specific.
For substantial health benefits, the CDC recommends that adults get a total of 150 minutes of moderate-intensity aerobic activity per week and exercises that strengthen all major muscle groups two days per week. A complete list of activities is available here.