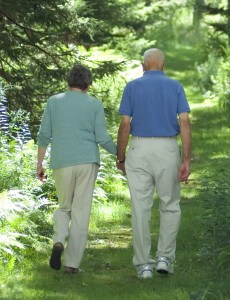 Piper Shores is sponsoring the 2015 Greater Portland Walk to End Alzheimer's. The walk, which takes place on September 26, around Portland's Back Bay, is one of 600 walks occurring across the country to raise awareness and funds for Alzheimer's research. The walks are organized by local chapters of the Alzheimer's Association, whose mission is to eliminate the disease through the advancement of research; to provide and enhance support for all affected; and to reduce the risk of dementia through the promotion of brain health.
Piper Shores will send a large team comprised of residents and staff to actively participate in the Portland 5K (3.1 mile) Walk and has a new plan to involve its entire community in preparing for it. With the help of University of New England (UNE) fitness instructors, a 'Couch to 5K' eight-week training program that focuses purely on walking has been developed to help residents get ready. The program's final training week will culminate just in time for the Greater Portland Walk to End Alzheimer's.
Enriching the lives of our residents is pivotal to what Piper Shores does, and the community is always looking for fun ways to encourage their health and wellbeing. Walking is a great fitness activity, and Piper Shores has so many gorgeous trails, it seemed like a great idea to create a walking fitness program that would excite the entire community about our involvement in the Greater Portland Walk to End Alzheimer's.
Piper Shores also wanted to provide a program that would ensure residents felt confident that they could successfully complete 3.1 miles if they decided to walk for Alzheimer's in September.
The Piper Shores 'Couch to 5K' training program offers helpful tips about how to get started, including:
Setting goals
Selecting proper attire
Hydrating
A Piper Shores campus map with the distances marked for a variety of paths and trails making it easy for residents to track how far they are walking each day
There's also:
A week-by-week training schedule
A training calendar
Written explanations of what to do on each day of the week
Stretching and strengthening routines
Residents can also check in regularly with the UNE fitness instructors to ask questions and share their progress.
Piper Shores worked closely with the UNE fitness staff to create a training initiative that had something for everyone. This program is a great way for beginners to get started, but it also will challenge more advanced walkers or those who exercise more regularly by helping them expand their distance and endurance or improve their speed.
Ultimately this is about building community and engaging our residents while also supporting an important cause that is working hard to eliminate a disease, which impacts so many Americans, including members of the Piper Shores family.
Facts about Alzheimer's Disease
Alzheimer's is the most common form of dementia affecting American seniors today. Here are some interesting facts about the disease from the 2015 Alzheimer's Disease Facts and Figures report:
More than 5.3 million Americans are living with Alzheimer's disease across the country
In Maine in 2015, 26,000 people aged 65 and older have the disease and that number is anticipated to grow to 35,000 in 2025 — an increase of almost 35%
Alzheimer's is the country's sixth leading cause of death
Nearly one in every three seniors who dies each year has Alzheimer's or another form of dementia
401 Mainers died from Alzheimer's in 2012
Walk to End Alzheimer's: Maine Event Details
During the months of September and October, there are eight Walks to End Alzheimer's held in Maine. These take place in the following communities: Augusta, Bangor, Brunswick, Calais, Fort Kent, Lewiston, Portland and York Beach. To find a walk in Maine that is near you, visit here.
The Greater Portland Walk to End Alzheimer's is scheduled for Saturday, September 26, 2015, and will start at Payson Park and follow the Back Cove Trail. On the day of the walk, registration begins at 8 a.m. and it is followed by a kick-off ceremony at 9 a.m. The official start of the walk is 9:30 a.m. Individuals who want to walk can register here.