"You couldn't rent an apartment in Portland for what I pay – and I get four-star meals, a swimming pool, fitness room – and a water view!"
Piper Shores is truly a special place to call home. The ocean-side setting is spectacular in any season, and Piper Shores' world class amenities, nonprofit status and lifetime access to higher levels of onsite care all serve to make Piper Shores utterly unique not only to Maine, but also to New England as a whole.
It's easy to understand, then, why some might assume that retirement at Piper Shores is beyond their financial reach. In fact, since its founding Piper Shores has been dedicated to ensuring that Piper Shores remains affordable.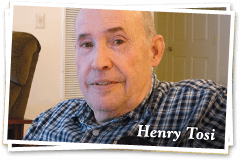 Piper Shores' resident and retired high school teacher Henry Tosi is a perfect example of someone who has found an exceptional retirement at Piper Shores that also happens to be surprisingly affordable.
"There is a myth out there that Piper Shores is only for the rich," says resident Henry Tosi. "But as a retired teacher, I can assure you that this isn't true. When you analyze all of the costs and benefits, Piper Shores is very affordable."
Mr. Tosi lives in a comfortable Oxford unit, with a bird's eye view of the water. "A portion of my monthly fee includes an allocation for pre-paid medical expenses, which are 100% tax deductible. And when you deduct my costs for healthcare and the cost of meals, the monthly cost of my unit is around $1,700 per month. Now factor in all the amenities that come with that fee – the fitness center, the activities, the four-star food, snow plowing, shoveling, transportation, and the fact that all our home maintenance is taken care of, including all repairs, appliances, even light bulbs. When you factor all that in, Piper Shores is more affordable than any other living option I'm aware of. And then when you add in Lifecare, nothing even comes close!"
As with anyone contemplating retirement, making sure his long term health needs were taken care of was a priority for Mr. Tosi. He found that securing long-term care coveragecomparable to that offered at Piper Shores was twice the monthly cost, could only be secured for five years, and only paid 50% of the cost.
While it's true that there are more expensive housing options available for Piper Shores' residents, the fact is that there are plenty of options for those who want their retirement to be more affordable.
One potential barrier for prospective residents is the initial entrance fee. To provide an option for people who may not have the cash available, Piper Shores now offers an amortized payment option for select two-bedroom, one-bedroom and studio apartments.
The traditional lifecare contract at Piper Shores includes the payment of an entrance fee for an apartment or cottage that is 90% refundable when a resident moves out and the unit is resold. The new contract option – referred to as an "amortized balance" entrance fee – provides for a lower entrance fee. The refundable portion of the entrance fee is reduced by 2% each month until the fiftieth month of occupancy after which time 0% of the entrance fee is refundable. The declining balance entrance fee option may be ideal for a new resident with less available cash on hand or who is not planning on leaving an estate to heirs.
"The people who move into Piper Shores almost always have a connection to Maine," observes Henry Tosi. "Either they lived here, as I did, or they summered here. So making sure that Maine people understand that Piper Shores is an affordable option is really important. I'm living proof! You couldn't rent an apartment in Portland for what I pay – and I get four-star meals, a swimming pool, fitness room – and a water view!"
To find out more about Piper Shores' affordability, read our Affordability FAQ, Is Piper Shores an Affordable Retirement Living Option for Seniors.