Karen and Gene Brewer exude the kind of tranquility and contentment that comes with a long, happy, and adventurous marriage. After reaching pinnacles in both of their careers, they seem relaxed today and ready for the next phase of their life, this time right here in Scarborough, Maine. With a gentle, welcoming manner and a beautiful adopted dog named Vikki, they act like two newlyweds rediscovering their life's passion.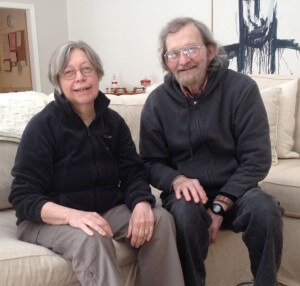 Yet, they are not newlyweds at all. In fact, each of them has lived a full and accomplished life. Karen had a 40+year career as a medical librarian and worked at four prominent medical schools before becoming director of the New York University Medical Library. Gene was a biochemist for two decades before turning in his lab coat for a typewriter. In 1995, and well into his 50s, his fourth novel K-PAX propelled him into unexpected prominence and even landed him in Hollywood.
Choosing the Right Retirement Community
Today, after a multi-state search, the couple find themselves happily settled in a two-bedroom+den cottage at Piper Shores. "We looked at retirement communities in New Hampshire, Vermont, and Maine. Then, when we went to Piper Shores, everything clicked," says Karen. "We found some of the nicest people we have ever met – people who are passionate about gardening, the environment, and the outdoors. Yet, there is a calming sense of ease here too," adds Gene.
At Piper Shores, the couple also found a community that can accommodate their food preference as vegetarians. "Gene was a vegan for much of his life. He is a vegetarian now and a total lover of animals," says Karen. The couple reports there are at least 3-5 vegetarian offerings at every meal. "We really appreciate that," says Gene, with a smile.
For Karen, the decision to move to Piper Shores was informed by her exhaustive knowledge of the medical world. "Also, because of our family history on both sides, we knew we would need continuing care," explains Karen, "so I wanted a CARF-CCAC accredited retirement community." (CARF is an accrediting body for continuing care retirement communities. In a state with more than 200 nursing, assisted, and retirement communities, Piper Shores remains the only retirement community in Maine to hold this designation.)
"I am super impressed that Piper Shores has attained CARF-CCAC accreditation," says Karen. "I've been through their accreditation process, and I understand that this is a powerful statement about the quality of care here at Piper Shores."
Arriving, Eventually, in Maine
Mid-westerners by birth, the Brewers met and married while studying at the University of Wisconsin, Madison. The couple began their careers in Tennessee and Cleveland before moving to a small apartment in Manhattan, where they lived and worked for 25 years. They would often escape the City during their free time to a small getaway house in Vermont and a cabin they built on Grand Manan Island just off the coast of Maine.
When it came time to retire, New England had a gravitational pull on the Brewers. They waited four years for their cottage at Piper Shores to become available, and when it did they were thrilled, but they also realized they needed furniture! "We are amazed by how much space we have in our new cottage," says Karen. "Some people move to the cottages from larger homes, and they are downsizing, but for us, this is huge. We spent most of our lives in New York City, and we had very little space and furniture."
The couple has created a pleasing and welcoming feeling in their new home, decorated with beautiful artwork, earthy colors, and natural fibers. The high vaulted ceilings and large windows invite the woods into their world. "We originally wanted views of the ocean, but there is something equally tranquil about our forest view," says Karen. "It's beautiful." The couple has enjoyed sightings of foxes, turkeys, songbirds and even a bobcat from their windows, and from this setting, the Brewers can easily walk to the ocean and take time to reflect on the unusual twists and turns of their lives.
Life at Piper Shores Includes Fitness
One of the prominent aspects of the Brewer's new life at Piper Shores has been fitness, and Karen can rattle off the extensive benefits of the Piper Shores seniors fitness program and its relationship with the University of New England. For her, the fitness challenge is personal. She was healthy in NYC, where walking and a physical trainer were part of life, but when she moved out of the city for a four-year stint in Vermont, she gained weight. At Piper Shores she has lost the weight and returned to great physical condition. "The exercise program is a great collaboration with UNE," she explains. "In fact, I have learned that 74 percent of residents are active in the fitness program here, and people actually extend their life by coming to Piper Shores." Gene keeps equally fit by walking, jogging, and using the weight room.
What They Love about Piper Shores
Asked what they like about life at Piper Shores, the Brewers rattle off a long list, which includes:
The active community
The gym and fitness programs
The outdoors and the walking paths
The chess group, where Gene is very active
The sense of ease of the people — everybody here seems to find their comfort zone
The diversity of people and incomes
The kindness and respect for others
The support for all people, including those with varying stages of dementia
The proximity to Portland, only 15 minutes away
They praised the quality of the arts scene in Portland, making particular mention of the Portland Symphony Orchestra and the Mad Horse Theater, which they said is every bit as good as off-Broadway shows in Manhattan.
How a biochemist ended up in Hollywood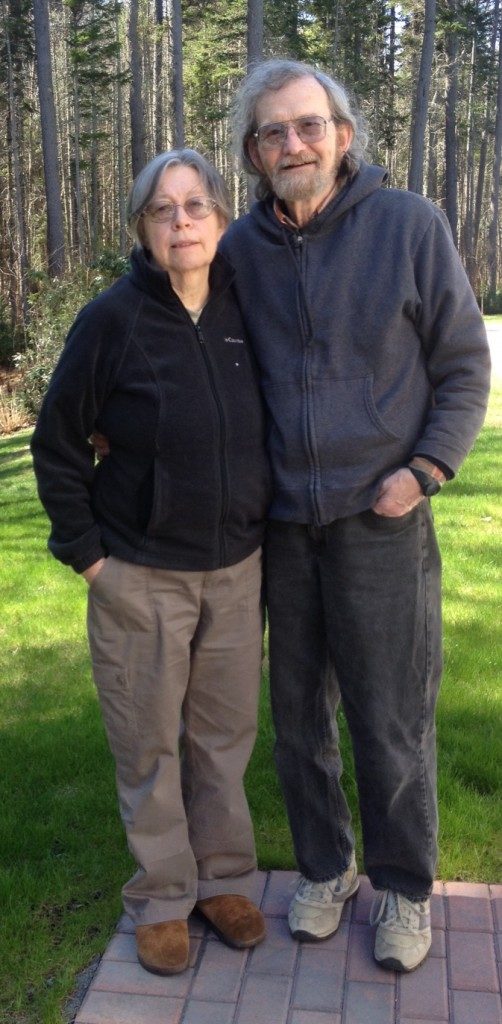 It's impossible to conduct an interview with Gene Brewer without touching on his unconventional rise to fame as an author. Gene grew up in Muncie, Indiana, with a collection of siblings. He went off to college and graduate school, became a biochemist, and worked for several major research institutions, including St. Jude's Children Research Hospital. Eventually, however, he got fed up with the politics of the medical establishment, and at the age of 44, decided to become a writer.
"Writing seemed easy, but I quickly found out it was not," says Gene with a gentle laugh. Nevertheless, he churned out four novels in fairly rapid succession (although none of them were published). Then he wrote a fifth novel. "I handed it to Karen to read," recalls Gene, "she said it was perfect."
Yet, it turns out even "perfect" had to wait to be discovered. K-PAX received 48 rejection letters before finally getting itself into a publisher's bidding war and being picked up by St. Martin's Press. Then, remarkably, before K-PAX made it into print, an advance copy landed on the desk of a Hollywood movie producer. Before Gene and Karen knew it, they had signed a movie deal with Universal Pictures.
"We were fortunate that we got to spend a week on the movie set with Kevin Spacey and Jeff Bridges while they made the film," recalls Karen. Gene even makes a cameo appearance as one of the inpatients at the film's psychiatric ward, she says. "It was a fascinating experience to be on the set at Universal Pictures, but it was also apparently atypical," recalls Karen. "Everyone on the set said, 'This movie is special to us. It really means something.'"
Indeed, for those who have not read K-PAX, the story is a captivating account of a protagonist named "Prot," who claims to be visiting earth from a distant galaxy and ends up in the Manhattan Psychiatric Institute. Prot not only provides deep critical insight into some of the more contradictory aspects of human behavior, but he has profound understanding and sometimes blinding knowledge about astronomy, cosmology, and even the pitfalls of religion. He is totally genius when it comes to science. In short, the book (and movie) has a kind of deep brilliance that is uncommon in Hollywood films.
Asking an author if he's happy with the cinematic adaptation of his book is like asking a dolphin if they like swimming pools. There's a certain amount of trepidation. Both Gene and Karen seem exceptionally pleased with the film. "It's not perfect," says Gene, "but you can't get better actors than Kevin Spacey and Jeff Bridges, and we have been pleased."
Now that Gene is settled in Maine, one might wonder if he has begun writing his next masterpiece. Without a moment's hesitation, Gene replies: "Not yet. Writing is work. Right now, we're both incubating."