Jane Case, former Navy Code Girl, honored on December 7th at Piper Shores
On December 7, 2021, the 80th Anniversary of the bombing of Pearl Harbor, Jane (Tuttle) Case, a 98-year-old World War II (WWII) veteran, was honored by several active and retired U.S. Navy service members at the Piper Shores lifecare retirement community. Jane, a Piper Shores resident, was presented with several awards and certificates to honor her for her time serving as a Code Girl for the U.S. Navy from 1942-1945. Jane was one of just 10,000 women across the country that were recruited to work in Washington, D.C. to do top secret intelligence work cracking German and Japanese codes. This work ultimately helped the United States win WWII.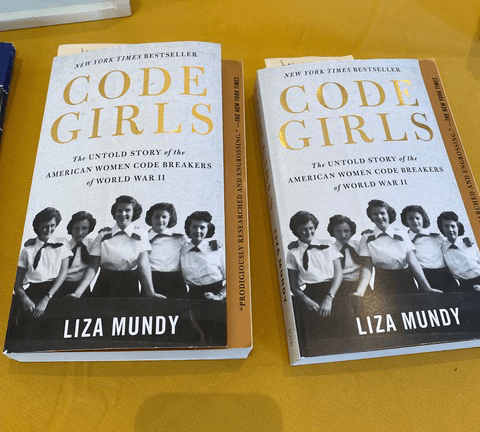 "This year as we commemorate the events that took place on Pearl Harbor in December 1941, I wanted to take this opportunity to extend my sincere thanks and appreciation for your years of service to our Navy and nation," Master Chief, Sandra Turner read aloud from a letter to Jane from Kelly Aeschbach, Vice Admiral and senior most Informational Warfare Officer in the U.S. Navy. "Your efforts in Naval communications and intelligence lead to what we today refer to as Naval information warfare. The work you provided during your service has not only impacted the women who came after you, but all sailors serving in today's Navy. We can honestly say that we trace our heritage back to you and your fellow Code Girls. Congratulations on a great career and thank you for your service."
Joy Asuncion, a Maine ambassador for the Military Women's Memorial in Washington, D.C., organized this event as part of her work to help women veterans feel proud of the work they did while serving. Joy was there to honor Jane in person, alongside two active U.S. Naval Cryptologists, Master Chief Sandra Turner and Chief Petty Officer Alyssa Sasnett, who traveled from Fort Meade, Maryland, to express their gratitude for Jane paving the way for their profession. During the ceremony, Jane was presented with:
A Certificate of Appreciation on behalf of the Library of Congress Veterans History Project, for her service to, and support of the nation as a WWII Code Girl.
A plaque and certificate, recognizing her as an honorary enlisted information warfare specialist
A handmade, red, white, and blue quilt from the quilts of valor, a foundation whose mission is to comfort and cover Veterans touched by the war.
A signed copy of the book, Code Girls, written by Liza Mundy telling the untold story of the American Women in Code.
Jane's History and Time in U.S. Navy
Jane Case was born on February 16, 1923, in Auburn, New York. She attended Chapin School and majored in voice at Longy School of Music in Cambridge, Massachusetts. Jane was initially recruited for Code Girl work due to her background in music school, and at that time, the Navy was seeking highly educated women with experience in language and mathematics. During WWII and her time serving as a Code Girl, Jane was sworn to secrecy and told never to speak a word of the work they did due to it being top-secret intelligence work. As the Code Girls say, "Loose lips sink ships", and to this day Jane honors that oath and will not speak of her personal work during her time in the service. Jane comes from a line of accomplished veterans, with both her brother and father serving in WWII and WWI respectively.
"Everybody I knew who wanted to go into the service did," explained Jane. "It was a time when the country really pulled itself together, and it was wonderful. It made you feel good because every person in this country was trying."
After the war, Jane worked for an educational TV program in Washington, D.C., today known as PBS. Jane and her late husband, Arthur, who passed away on March 21, 2002, came to Piper Shores from Amesbury, Massachusetts 20 years ago. Together, they share eight children and 12 grandchildren. Jane is a First-Degree Reiki Healer and enjoys quilting and reading in her spare time.
When asked about how she felt during the ceremony, Jane said, "I was just listening and at the end I fell apart. Ever since I was a little girl, this country has been everything to me. I've always been very, very happy that I did what I did."
Below is a list of related stories that ran in local news outlets:
World War II 'Code Girls' recognized on 80th anniversary of Pearl Harbor attack
World War II Code Girl honored in Scarborough for her service