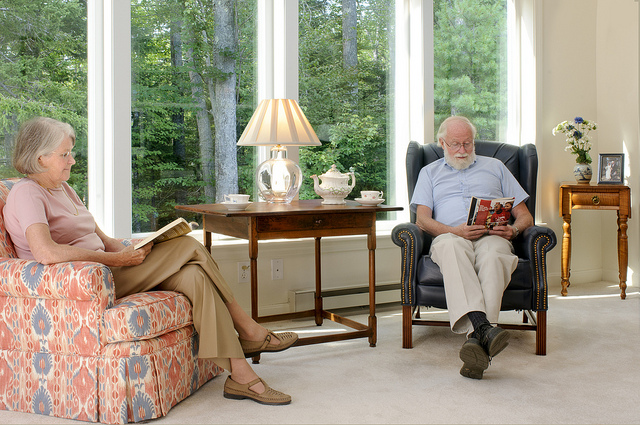 Moving from a large home with spacious landscaping, leaving our friends behind, how would we adjust to the "closeness" of retirement community living? Would we still have the space, which we had come to cherish? That worry was readily relieved by the pleasant rhythm between "togetherness" and "aloneness", the balance between community and privacy that is so obvious at Piper Shores.
Life in a cottage has given us a lovely home on a beautifully landscaped street with the seasonal appeal of both indoor and outdoor living. While neighbors are close-by, there is never the annoyance of inevitable interruptions. Each cottage abuts woods that are enhanced by many birds and small wildlife. While neighbors enjoy a shared concern for mutual well-being and the fun of social interactions, there is no sense of obligation or expediency. Sharing some meals in a beautiful dining room overlooking the ocean while enjoying scrumptious food, gives further opportunity to enjoy a larger sense of community.
Of course, the richness of such a balance of private and public life lies with the personalities of those involved. Here one experiences Piper Shores' greatest asset – its residents! Interesting people from varied backgrounds bring a wealth of knowledge and experiences. Caring people who share concerns for the issues we face living in and coping with the world around us.
Activities abound, cultural resources are made easily accessible – to enjoy alone or in the company of others. Choice makes adjustment easy and opportunity abundant. Our worry about how to fit in has been transformed by wonderful new friends and gracious retirement living.