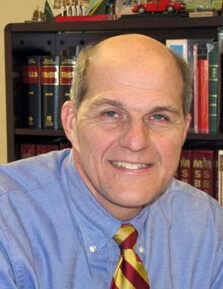 Mr. Danielson is no stranger to Piper Shores; he has been a board member since 2015 and served as Vice-Chair since 2017. He comes with years of experience in the senior health care field as an estate planning attorney, and he is a frequent lecturer on various estate planning and real estate topics. In addition to his service at Piper Shores, Danielson is a former Board Chair of St. Joseph's Manor, a personal care/skilled nursing facility based in Portland, ME.
Mr. Danielson is owner and managing partner of the Law Offices of Robert E. Danielson, his own practice, which focuses on all areas of estate planning, land use, and small business planning, including conveyancing, leasing, financing, title, zoning, corporate structuring, wills, trusts and estate administration. Danielson graduated from Boston College, cum laude in 1980, and received his juris doctor from St. John's University School of Law in 1983. He serves as a member of the Maine Estate Planning Council, the Maine Title Bar, the Mercy Hospital Planned Giving Committee, and as a former director and Board Chair of the Catholic Foundation of Maine. He has served as president of the Cape Elizabeth Land Trust and president of the Maine Philanthropy Center. He is a Rotarian and a member of the New York, Massachusetts, and Maine state bars.
Piper Shores sat down to discuss the future at Piper Shores and the Board of Directors' focus in the coming months and years. Mr. Danielson was quick to praise the board and staff of Piper Shores, calling it Maine's premier retirement community. Asked what he feels are Piper Shores' most pressing concerns, Danielson noted, "Piper Shores is extremely well run and is highly regarded in the Continuing Care Retirement Community (CCRC) world, but as our resident population ages, Piper Shores must ensure that we plan well for the future."
The biggest challenges facing Piper Shores are related to cost, he noted. "The cost of independent living and health care is escalating quickly," says Mr. Danielson. "Our charge is to keep the resident experience fresh and exciting, while looking to secure a strong future." He noted that the integration and expansion of the proposed Dorado property across the road from the main campus has the potential to provide long-term financial sustainability to Piper Shores. Danielson is hopeful that the proposal will meet with broad acceptance from within the community and the town of Scarborough.
Some additional highlights that Mr. Danielson cites:
Demand is strong — The wait list has doubled over the past 5 years, which is a strong affirmation of the quality of life at Piper Shores.
Satisfaction — A recent resident satisfaction survey reveals that residents are pleased with life and the leadership at Piper Shores.
Amenities — The residents at Piper Shores seek the highest quality of amenities and they are requiring us to bring our 'A-game'. As baby boomers start to join the community, they are seeking a different set of amenities, and so we must engage in strategic long-term planning in order to meet their needs.
Improvements — We are seeking to enhance the resident experience, which means we are looking to renovate older buildings, provide more fitness and life enrichment offerings, as well as more casual dining options. We will bolster the new arts building with inclusive programming for resident of all artistic abilities.
Technology — We have a goal of upgrading our technology to better serve our staff and residents and to offer the same technology as one could have in the open marketplace.
Talent Management – The best way to preserve the incredible experience that our residents enjoy is to have staff who enjoy their positions. We are making sure that all staff is well-trained and provided with room for advancement.
Growth – Our plan is to use tempered growth as a means for maintaining affordability. Looking ahead, we are beginning to implement our new strategic plan, which includes moderate growth.
Mr. Danielson says he looks forward to the rigorous work ahead. "Piper Shores is an impressive place with which to be affiliated because of the amazing talent of its residents and staff. I look forward to engaging in the vision for a strong and vital future."