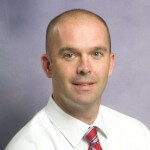 Brian Kenney recently joined the Piper Shores management team as its new Facilities Director, and he is responsible for overseeing a staff of nine on the 138-acre oceanfront campus comprised of two main buildings and administrative offices, over 160 residences and cottages, a woodshop, and a maintenance building.
Kenney is no stranger to Maine having grown up near Fairfield. He attended the Maine Maritime Academy where he was trained as an engineer. Following graduation from the Academy, he spent 4.5 years shipping out primarily with the Navy before his wife and children called him back to work on the land instead of at sea. Since then he has been working in the field of facilities management. He has 15 years of facilities management experience most recently with the Windham School Department and IDEXX Laboratories.
With only a few months under his belt at Piper Shores, Kenney has wonderful things to say about both the facilities and the residents. Kenney says he was familiar with Piper Shores, but now that he is on property every day, he is simply amazed at how sizeable and how beautiful the community truly is. In addition to its stunning oceanfront setting, Kenney says the facilities and grounds are exceptionally well designed and maintained.
When it comes to the residents, Kenney says the people here are a dynamic group and that the most satisfying aspect of his new role at Piper Shores is being able to help and serve seniors.
He continued: "I previously worked as a facilities director in the Windham school system, and I grew quite fond of being able to doing something for others that mattered every day. As the new director of facilities at Piper Shores, it's gratifying to be doing something for seniors. It's something we might take for granted, but I really enjoying doing work that matters to the people who live here."
"I feel privileged to be a part of the Piper Shores team", concluded Kenney.