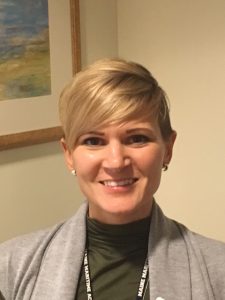 Allyson Rust has a different kind of Piper Shores' story. At the tender age of 20, she started working here as a server in the dining room. Ten years later, and she is back as a Registered Nurse and Piper Shores Community Health Service Manager.
"It's been an interesting journey," says Allyson. " When I first applied for a position at Piper Shores, I knew I was heading into the field of nursing, so I was trying to find a position that lent itself to that transition," she explains. "Once I started working here, I realized what an exceptional place this is, and how lucky I was."
Allyson was born and raised in the picturesque Sebago Lake region of Maine, and she received her Associates Degree in Nursing from Central Maine Community College. After that, she joined the nursing staff at Maine Medical Partners, where she provided bedside nursing care to acutely ill patients. In September, still midway to achieving her Bachelor of Science in Nursing degree from the University of Fort Kent, she returned to join the management team at Piper Shores.
"A key motivation for returning to Piper Shores was the team environment," says Allyson. "I really like being part of a smaller team where you know everyone." But it was also the residents who called her back. "The residents at Piper Shores are just incredible people. Their lives are fascinating, and they are genuinely kind. I like to joke that I have 300 grandparents that are all rooting for me," she laughs.
Today, Allyson's role requires her to lead a team of two licensed nurses and three certified nurse assistants. Her responsibilities cover everything from care management and emergency response to daily living activities. She helps residents as they age in place or transition through the lifecare process. Allyson is also the liaison with the University of New England fitness program, which coordinates a large variety of activities designed to provide seniors with improved strength, balance, mobility, and flexibility, including the popular Couch to 5K, an eight-week training program that focuses on walking.
"My job is very rewarding," says Allyson, "in part because I'm a person who loves to be challenged." Medically speaking, the geriatric population is more complex than providing care for people in their 30s, she explains. "But this kind of challenge is what drives me. I really enjoy working toward a successful finished product with people who draw out the best in me."