The new CNA training program is the result of a partnership with Scarborough Adult Ed and is aimed at training workers for a rapidly growing healthcare need.
Piper Shores and Scarborough Adult Education have joined forces to offer a Certified Nursing Assistant (CNA) training program aimed at preparing a workforce to fill what is becoming a significant healthcare shortage across Southern Maine and nationally.
According to 2010 U.S. Census Data, the oldest baby boomers will begin reaching the age of 71 years by 2017, and many of them will be heading into retirement. In addition, according to AARP Public Policy Institute calculations, the U.S. caregiver support ratio is declining, meaning there is a projected lack of family caregivers. The Maine Department of Labor projects that certified nursing assistant positions will increase by 9.2 percent over the next eight years. All of this data spells a local and national deficit of caregivers; and retirement communities across Maine are taking note.
"Maine has a real shortage of CNAs, and the issue is going to explode over the next decade as Maine's population ages and as we become more of a retirement destination," said Joan Tremberth, Director of Scarborough Adult Education. In an effort to create more highly trained professionals, Tremberth has been on a mission to expand educational opportunities in Southern Maine.
For the first time, Piper Shores and Scarborough Adult Education announced that they have forged a partnership that aims to train as many as 17 certified nursing assistants over the next 12 months. If successful, a series of training programs will be offered throughout the year that are designed to prepare students for a future in healthcare.
The new partnership comes just as Piper Shores is heading toward the 2017 summer opening of its new Holbrook assisted living and memory care residence. The expansion not only provides increased residential opportunities for seniors, but it expands the need for a reliable, well-trained workforce, too.
"Piper Shores needs more CNAs, especially in light of our expansion," said Christine Cook, RN BSN, Holbrook assisted living nurse manager. "By July, we'll be hiring and training as many as 18 CNAs for our new Holbrook residences. Realizing our long-term hiring needs, we wanted to get ahead of the curve and create a program that could become a solution for us," noted Cook.
In the spirit of collaboration, Cook says she connected with Scarborough Adult Education to see if they could develop a program that would offer courses and clinical opportunities right on the Piper Shores campus. The program got underway in November, with 7 students enrolled.
The 180-hour, 11-week course is based on 90 hours of didactic (classroom) training; 20 hours of skills development, and 70 hours of hands-on clinical work. The course runs afternoons and evenings on Tuesday and Wednesday, and full days on Saturdays. Students must pass a CASAS reading test to qualify. Upon completion of the course they must pass the state licensing exam in order to be listed on the Maine CNA registry. The next CNA certification class will begin in March.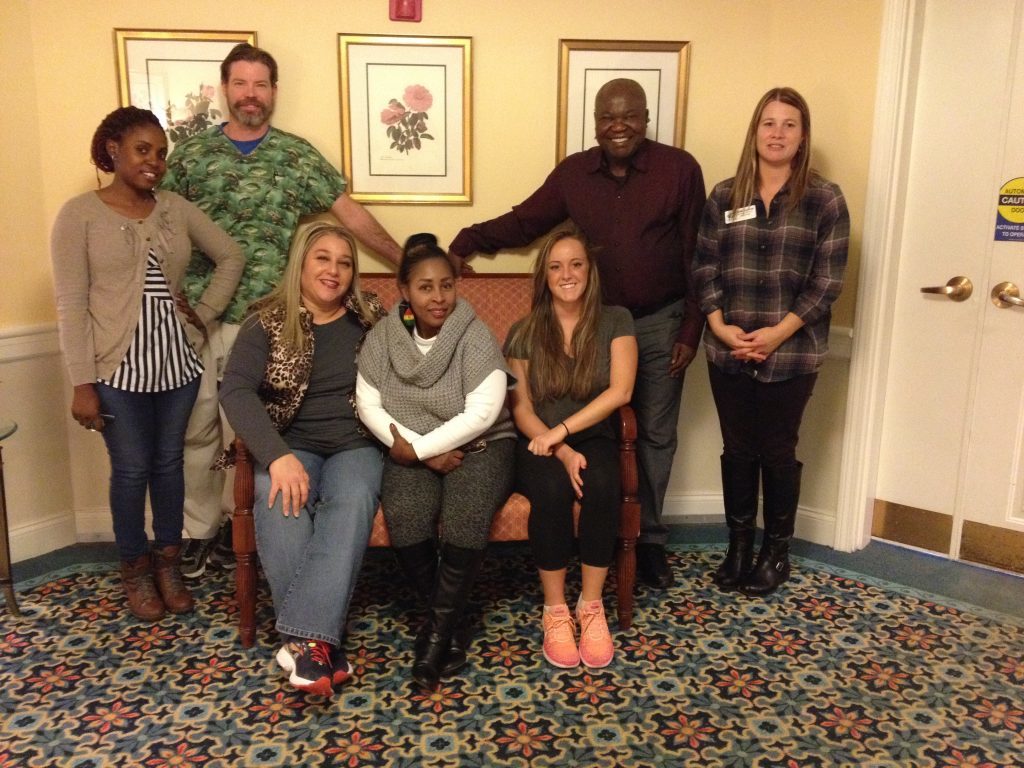 Tremberth noted that in addition to the new CNA program, the partnership is seeking to initiate a dual credential program that would allow CNA students to attain a corresponding residential medication aide certification. But the first goal is to get people ready to go out to work as CNAs. "We want them to be well trained, and to love their job," said Tremberth.
A CNA provides direct care and assistance with the activities of daily living, according to Cook. They spend the most time developing the strongest relationships with residents, and they are usually the first to notice when there is a status change with a resident. "They are the eyes and the ears of the nurse," explains Cook.
"I hope even more partnerships like these will arise in the future," says Tremberth. "After all, we are going to require a lot of great caregivers in Maine in the very near future. We need people who enjoy making a difference in people's lives, and I'm one of those people who's going to benefit," laughs Tremberth. "Someday I'm going to want one of these fine students to take care of me, so I have a vested interest in making sure they are well-trained."
Piper Shores CEO Jim Adamowicz also praised the partnership and commended his staff for its resourcefulness. "It's inspiring when a staff member takes ownership of a challenge and uses creativity and determination to find a solution," he said. "We can all be proud to work for a vibrant, results-oriented nonprofit organization that is working to solve problems by creating real and needed opportunities."