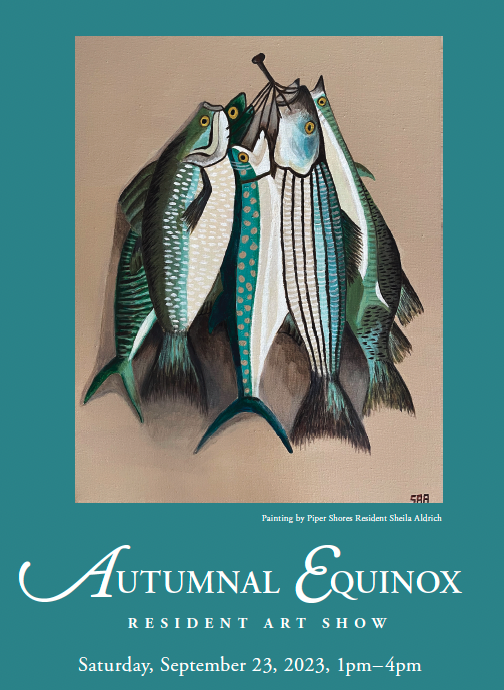 The Piper Shores resident art show makes a fall debut for the first time in over twenty years of exhibiting resident-created artwork.
The newly named "Autumnal Equinox Resident Art Show" will be held on Saturday, September 23, 2023, from 1:00 – 4:00PM on the Piper Shores Oceanside campus in Scarborough.
This year's art show was moved to the September date as Piper Shores opened The Meadows campus in mid-June, a time of year when the art show is normally held. The event showcases dozens of original works by a collection of resident artists – including this year's featured artist, Sheila Aldrich. The show is open to the public and free of charge.
Artwork will be exhibited in two dedicated locations at Piper Shores – the Great Room and the Bigelow Arts Center. The Great Room is a large function and gathering room, while the Bigelow Arts Center provides spacious studio and gallery space for Piper Shores' residents. The arts center features equipment, materials, and workspace for a wide variety of artistic mediums, including painting, watercolor, fiber arts, and ceramics. Completed in 2018, the Bigelow Arts Center fulfills a longtime dream to offer a dedicated venue for artistic expression and learning at Piper Shores.
Piper Shores believes that staying active and engaged is the key to healthy living and healthy aging. The Autumnal Equinox Resident Art Show is an emblem of that creative activity, and the Bigelow Arts Center provides a vibrant location for residents of all abilities to be creative all year long.
This year's art show will feature original artwork created by a talented pool of Piper Shores' residents and waitlist members. Mediums include oil paintings, sketches, watercolors, collage, knitting, needlepoint, ceramics, and more. Artists will be on hand to share and discuss their works of art.