Under a bright sun and bluebird skies, Piper Shores threw open the doors on its new and much anticipated 2,800-square-foot Bigelow Arts Center. Residents, wait list members, and guests attended the Feb. 28 opening, touring the new space, chatting, enjoying hors d' oeuvres and chilled beverages over an exquisite hand-carved ice bar, and admiring resident artwork adorning the walls and interior spaces of the new building.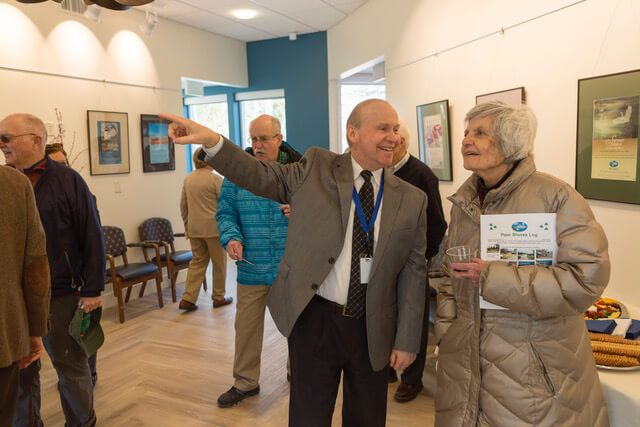 Welcoming guests at the opening was Piper Shores CEO Jim Adamowicz, who encouraged visitors to heed the advice of the great Pablo Picasso, who famously said: "Every child is an artist. The problem is how to remain an artist once we grow up."
Mr. Adamowicz acknowledged that the new arts building is the realization of a longstanding dream among a cadre of residents who have yearned for a space to explore their creative side and to create and show their own artwork. But Adamowicz hopes the building will reach beyond the corps of resident artists at Piper Shores, and he summoned the greater Piper Shores community to enter and discover their inner artist.
"Our goal is for each of our residents to find their own childlike inspiration, and to explore their artistic and creative side, which is so important to a good life," he said.
With as many as 50 artists in the Piper Shores community, hopes are high that the new space will quickly be energized by the sounds and smells of artwork in the making. The new space includes a painter's studio; a fabric arts studio; a pottery room with potter's wheel and kiln; a spacious vestibule, which serves as an ample new gallery space, and an outdoor reflection terrace, which can be used for quiet contemplation. A calendar of events is being developed to offer classes, workshops, and events in the new building.
Among the guests at the opening were Piper Shores residents, staff, and guests, including:
Chris Teale – a potter of 40 years. Teale's love of pottery began in England, and specifically Cornwall. She creates high-fired, reduced stoneware, with an ash glaze. Teale said she will make use of the new pottery wheel and the kiln and she looks forward to using the new space.
Ned Dougherty – a Biddeford Pool painter and Piper Shores resident. Ned's grandmother, father, and sister were all artists, which he said was "intimidating." He started painting at age 50 after reading "Drawing on the Right Side of the Brain," a book by Betty Edwards. By using techniques such as upside-down drawing, seeing and drawing light and shadow, negative spaces, and edges, the book helped Ned redefine his relationship to art, and now he a prolific artist.
Letty Annis – a painter who started her painting career at age 62, Letty went back to college post retirement and earned an undergraduate degree in art from Montclair University in New Jersey. She laughs that she was by far the oldest undergraduate student, but that she was committed to her studies. Letty says she loves the new arts building for its beauty and light. "Light is very important to artists because from light you get shadows, and from there you get dimension." When an artist paints, she explains, they are going from three to two dimensions, so shadow, color, and light play a big part. Letty says she loves the new building, "The proof of its success will be in how it gets used," she said. Letty also hopes the new art space will be a place for learning. She is committed to taking regular workshops and learning to improve her skills from other artists. "I love the idea of coming here to work and chat with other artists."
Anne Rose – an artist, teacher and oil painter, she says the new space will go far in bringing out the creative. "This space is a gift to the people who live here, and to Piper Shores itself." It's amazing how beautifully it was built and how well organized it is," she adds. Anne Rose says she will continue to paint at home, but she will also work in the new space.
June Martin – a prolific oil painter who has shown her work many times at Piper Shores, June says she loves the new space and hopes that members of the community will take advantage of the new building as a way to create and express themselves. June says she will continue to paint in her own home because she likes it there and because she has a space set up for herself, but she says she's interested in coming down to see what's going on and may even try her hand at new mediums, such as pottery and fabric arts.
Camp Ketcha – three members of the Camp Ketcha community attended the opening, and the nearby camp is already engaging in conversations at Piper Shores for how to develop programs that bring young campers and students to the new arts building for collaborations and projects. More to come on that front!
The 3-hour opening was well-attended. Residents toured the space, talking and sharing stories, while marveling at the large selection of artwork, including the hand-carved ice sculptures created by executive chef and ice-carving master Jesse Bouchard.
Among those thanked for their extraordinary efforts: The residents of Piper Shores; Facilities Director Brian Kenney; Hebert Construction, which built the new building; Andrea Killiard and Tara Konieczko from the Life Enrichment Office, who will ensure that the building adds permanent value to the community.