Holbrook Health Center at Piper Shores has received a high ranking of five stars overall in U.S. News & World Report's 2012 Best Nursing Homes. The rankings highlight top-rated homes in all 50 states and is based on a composite score from three distinct operational areas: health inspections, nurse staffing, and quality of care.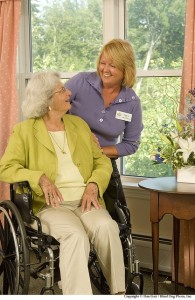 "At Holbrook, we believe in a PersonFirst® approach to resident care," said Peggy Farrington, Piper Shores Administrator. "Each of our residents enjoy a private room, and 24/7 access to professional, respectful and compassionate staff that takes the time to get to know each resident individually. We are pleased that this approach is consistently reflected in our high rankings with US News & World Report, the Centers for Medicare and Medicaid Services and the State of Maine."
The rankings rely on information from the Centers for Medicare and Medicaid Services, the federal agency that sets and enforces quality standards for all nursing homes enrolled in Medicare or Medicaid. Nursing home facilities that ranked highest in Best Nursing Homes 2012 earned overall five-star ratings. Of the 15,500 homes rated and profiled on the U.S. News website, only about one nursing home in eight met this 5-star standard.