Rosemary and Thor are enjoying their second retirement. Their first retirement involved moving to Somesville, Maine on Mount Desert Island, where – after full careers in teaching, providing addiction therapy and having a psychotherapy practice – they planned to enjoy an active retirement and embrace the great Maine outdoors skiing and sailing.
They did all that. They also went back to work.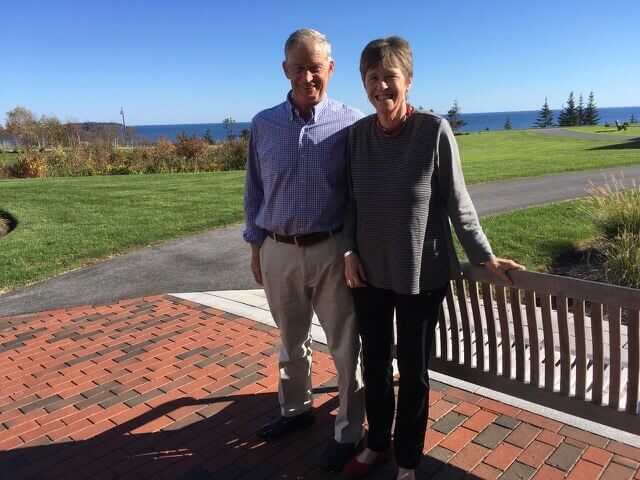 The Apthorps both worked in Acadia National Park at The Jordan Pond House. Rosemary managed the Gift Shop and Thor managed the Information and Reservation Desk. That "retirement" lasted 17 years.
While living on Mount Desert Island, both Rosemary and Thor became deeply involved in helping their parents contend with aging, moving into residential/assisted living, skilled nursing and dementia units, and end of life challenges – including the high cost of healthcare. Thor's parents moved into a lovely retirement community in Concord, MA, which ended up requiring them to pay for two full-time care aides, 24 hours a day. Rosemary's parents moved into a fancy retirement community in Kennebunk, ME where big rate hikes were required for each move for more care and where Maine Care was not accepted. The Apthorps needed – and wanted – something different for themselves and had no idea such a thing existed until October 31, 2015. On that night at a dinner party at their home, they heard about CCRC's from a friend. "We had never heard about a non-profit continuing life-long care community," explains Rosemary.
The couple went online that evening and discovered Piper Shores was the only CCRC in Maine, and the pictures – on the ocean – looked great. "We scheduled a visit with Andrea Killiard, (Director of Marketing and Life Enrichment) in December 2015, and I brought a check," recalls Rosemary.
Life at Piper Shores
After their first full year as residents, the couple seems "over the moon" with their decision to move to Piper Shores. They explained how uplifting the social aspect of living here is. They feel that there is a feeling of camaraderie – a sense of enjoying this beautiful place and the stimulating conversations and fun activities. One can choose to have quiet times as well, with meditation and peaceful walks by the ocean, and then joy-filled laughter at meals with friends, new and old.
The couple says they love the dining services at Piper Shores and commend Chef Jesse Bouchard for keeping the community so deliciously fed and nourished. The dining room is a true gem on the third floor looking out onto the ocean. Thor thoroughly enjoys being on the Wood Shop committee. The shop is a fabulous place that is well-stocked with impressive tools for projects. Rosemary raves about having a raised garden bed to work in at the common garden area. Both Rosemary and Thor attend advanced strength and balance exercise classes. They are both on the fresh flower arranging committee, too. They bought new bikes and like to ride to Scarborough Beach and Ferry Beach. Occasionally, they take trips farther afield – to places like Kripalu, a health and yoga retreat in the Berkshires. They both participate in a prayer and silent meditation group that takes place each week at Piper Shores.
They explained that when friends stated that they were too young to move to Piper Shores, they learned their retort from a resident here who hosted them to lunch. He said, "Better five years too early than five minutes too late."
The Apthorps opted for an affordable one-bedroom apartment, explaining that they wanted to maximize their savings and ensure they would be able to travel, get outside, and stay active. "We feel incredibly lucky to be here," says Thor. "We sold our house and now this is home and we are given a fabulous library here!"
A life of service to people
Thor grew up in Concord, MA. His childhood involved a great deal of sailing and ski racing. As a college student, he taught sailing while working for the Boys and Girls Camps of Boston on Cape Cod. Later, he was on the staff at The Childrens' Center at McLean Hospital, a psychiatric hospital in Belmont, MA. After earning a MEd, Thor taught for years in residential schools for emotionally damaged children and adolescents from broken homes. This work led him to become a nationally certified drug and alcohol addiction counselor. He eventually became the director of a heroin addiction recovery clinic. He also worked with homeless vets and in a drug and alcohol withdrawal program.
Rosemary was born in the United States and spent her early childhood in Sweden and Finland. Her father was in the Diplomatic Corp. She taught elementary school for thirty-seven years – in Ann Arbor, MI, San Francisco, CA, and Carlisle, MA. She also became a guidance counselor in her school, which led her to go back to school and earn a MSW from Boston Univ. She then started a private practice in psychotherapy, cognitive behavioral therapy, and substance abuse therapy.
The couple lived most of their married lives in Harvard, MA and Somesville, ME with a two-year stint in Sedona, AZ, where they explored Canyonlands, partook in sacred treks, and studied with a shaman for several years.
"We loved living on Mount Desert Island, and we were also ready to find a new place where we could love nature still and enjoy the adventure of living without the anxiety or the necessity of work and expense of home ownership. We found that relief and much more here at Piper Shores," they said.