"When you find the place where you really want to move, all the excuses fall way – and you just do it!" says new resident Barbara Emerson. Barbara and her husband, Joe Kunkel, moved to Piper Shores in August, from Massachusetts. Their move to Piper Shores began when neighbors put their house on the market and it sold – quickly. Rather than wait and risk a drop in the market, Joe and Barbara decided to take the plunge and put their house on the market, too. "We wanted to get in a good community, before all the other Baby Boomers grabbed all the slots!" laughed Joe.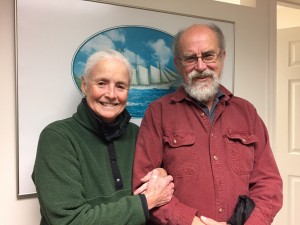 When they first started thinking about moving, though, they had a different destination in mind. "We don't play golf, so knew we didn't want to end up in Florida," laughs Joe. "But we had picked a retirement community in Pennsylvania that we were really set on."
"Then we saw an ad in Yankee Magazine for Piper Shores," says Barbara. "And we headed up to Maine!"
When Joe and Barbara visited Piper Shores, they knew right away they would not be retiring in Pennsylvania after all.
"Well, you can't beat the setting," says Joe.
"And the people are so open and friendly, and made us feel so welcome," adds Barbara.
The fact that Piper Shores is a lifecare community – and the only lifecare community in Maine – made Piper Shores their top pick.
"Lifecare for us was essential," says Joe. "We're pretty young now but you never know what's going to happen in the future. We look at is as an insurance policy against anything bad that might happen in the future, and that piece of mind is crucial for us."
"And we really didn't ever want to put anyone in the position of having to worry about taking care of us," adds Barbara.
Joe and Barbara are finding life at Piper Shores to be as great as they anticipated. Both avid gardeners – Joe is former President of the Perennial Plant Association as well as Director of the Massachusetts Horticultural Society, and Barbara is former President of the Direct Gardening Association and director with Horticulture Magazine. The lovely gardens and grounds of Piper Shores hold special appeal, as did their new neighbors, some of whom are renowned gardeners in their own right.
The easy access to the beach for walks with their dog isn't bad, either. And with Portland just down the road, satisfying their craving for excellent food and live music is easy, too. Both Joe and Barbara have been busy exploring the restaurants and music clubs in Portland and the surrounding area, with One Longfellow Square, Jonathan's Restaurant, and Stone Mountain Performing Arts Center all favorites.
Speaking of exploring and trying new things, both Joe and Barbara are trying out a new technology being tested at Piper Shores called Touchtown, a software App that provides users with easy access to news and information about the goings-on at Piper Shores. "It makes it a lot easier to get information about what's happening, and you don't have to wait for the stuff your interested in to come up on the TV," says Joe.
"We're used to technology, and we like it," Barbara says. "So being able to access the Touchtown App using our tablet makes sense. Instead of having to keep track of the papers and print outs and calendars, we can just log on to Touchtown and get the info that way. It saves a lot of time – and trees!"
Given their young age and busy, active lives, when Joe and Barbara began telling family and friends about their plans to move to a retirement community, they took some ribbing. "People said to us, 'why are you going to an old folk's home?' laughs Joe. "But if they could see this place, they'd see that Piper Shores is not at all like what some people think of when they think about retirement communities. This is a place to go to live, not die!"