"You don't come to Piper Shores to let go of life—you come here to be able to live it more fully." ~Angela Absher
When you meet Angela Absher, you have the distinct impression of encountering a woman who has spent a lifetime pushing against social norms. Angela, a self-described nomad, has travelled around the world more than once and lived in more places than she cares to count, including a monastery in Nepal. Now, at age 77, she has become a permanent Piper Shores resident, setting roots for perhaps the first time in her life.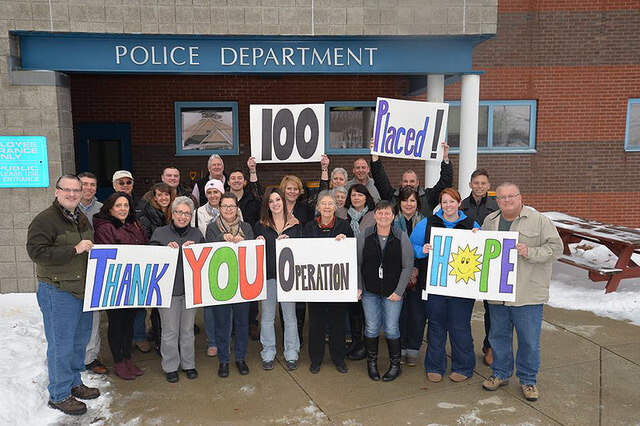 Her new life as a Piper Shores resident has in no way become a path to slowing down. Angela keeps a brisk and demanding schedule. She recently presented a workshop entitled "The Art of Daydreaming," designed to help residents tap into an inner calm when alone, in pain, sick, or dying. She volunteers at Holbrook and teaches residents tools for attaining peace of mind amidst hardship. She's enrolled in a continuing education course at the University of Southern Maine. And, if that's not enough, she's an advocate for southern Maine's growing addiction recovery community.
"I am Angel No. 51 at the Scarborough Hope Project," explains Angela, "which facilitates the placement of drug addicts in recovery centers throughout the country." Angela calls it heart-rending work. "The drug recovery community is a lost population that has to take care of itself," she explains. But rather than denigrating or turning a blind eye to people in recovery, Absher embraces them with tenderness. "There's a growing group of people facing a dire situation, but in so doing they are discovering their own capacity for self-healing," she explains.
Angela's view of addiction recovery is anything but conventional. In fact, she compares recovery to old age, sickness, and dying. "What you need when you are dying is the same thing you need when faced with healing yourself from drug addiction," she explains. "You need love, acceptance, and absolute fearlessness."
Angela's lifelong pursuit of the study of religion, philosophy, and healing seems to have instilled in her an unflinching predisposition for hope. She bemoans a worldview that is increasingly conventional and professionally oriented, and she seems to enjoy pushing the conversation into uncharted territory. She also employs a brazen honesty that's disarming. "I like being with people who are dying. I am not afraid of that," she says plainly. "I have no fear of death, just like I have no fear of addicts. Nobody would fear addicts if they knew them," she quips. "People are just afraid of something they don't know."
Angela's adventures around the world and her study of world religion seem to have come full circle at Piper Shores. "It's the essence of those things that I wish to share within the context of end-of-life and self-recovery from addition," she says.
Transition to a Life at Piper Shores
Angela does not mince words when it comes to describing her transition to living at Piper Shores. "The first year was hard," she confesses. "I think it's important for people to recognize that transitions are hard. Leaving life as you know it and entering a senior community where you know you are going to stay – this is especially hard when you're a nomad like me." But Angela believed the time was right, and she was relying on advice from close friends Sheila and Bruce Denny-Brown, who had conducted a thorough search for the state's best retirement communities. In the end, Angela says the factors that made Piper Shores so appealing are the organization's commitment to lifelong learning and the positive, inclusive attitude.
"The intellectual and socially conscious community here is outstanding and an inspiration to me," she says. "You don't come to Piper Shores to let go of life—you come here to be able to live it more fully."
A little more than a year into her new life as a Piper Shores resident, Angela exudes an aura of satisfaction and full engagement. "Living at Piper Shores is like living in an elegant college dorm that has no exams and no grades," she laughs. "It's shamefully nice, and it's actually one of the reasons I feel driven to work in the recovery community."
A Typical Day at Piper Shores
Angela's typical day consists of rising in the morning, preparing coffee in her apartment, and reading The New York Times. By 8:00AM she's in an exercise class, which she attends at least 3 times per week. If there is a call from the Scarborough Hope Project, she goes, and twice a week, she mentors at the Portland Recovery Center. Otherwise, she attends to her USM studies or goes to a lecture. At lunch, she can go to the dining room or have a meal delivered to her room. The day we spoke, she had attended her morning exercise class, enjoyed a cup of coffee in the café with friends while enjoying a view of the Atlantic Ocean. Later in the afternoon, she planned to attend a talk about Acadia National Park, and a dinner date was scheduled for later that evening.
Angela regularly attends the meditation group and goes to church. She invites her family to Sunday brunch that includes a visit to the indoor swimming pool and hot tub. "I have three children and six grandchildren," she says, and the children particularly like the Sunday brunch dessert table."
At 77, Angela considers herself to be young, and she plans to stay active. "I intend to push myself to be involved in the outside community at least until my 80s," she says. Being active and engaged are her keys to happiness.