The Meadows is Rolling Along!
Summer is here and the gardens at Piper Shores are in full bloom. As we emerge cautiously from a campus-wide lockdown to keep our community safe during COVID-19, Piper Shores continues to bring our expansive vision for The Meadows to life.
Recently, we held a virtual wine and cheese social hour where we shared exciting updates about progress at The Meadows and learned some extraordinary insights from wine specialist Maia Gosselin of SIP Wine Education of Boston. Maia was a wonderful presenter who explained why the Loire Valley produces such delicious Muscadet, why Oregon is the premier location in the United States to grow Pinot Noir, why screwcaps on a wine bottle are now acceptable, and thankfully, you can still buy a great wine for under $10.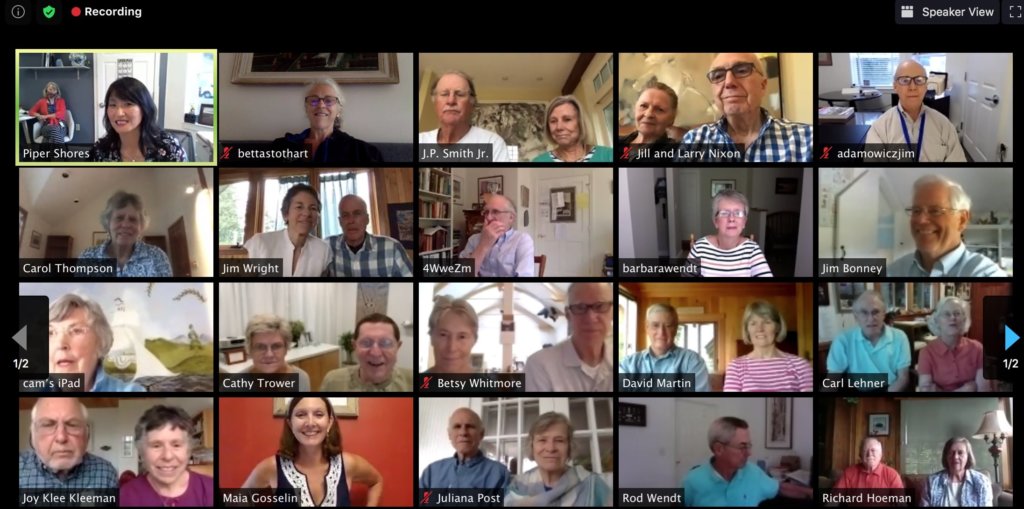 There were 36 lively faces on the call. The group had fun connecting, listening, and asking lots of good questions.
The Meadows is Making Progress!
Most of those in attendance were eager to learn about progress at The Meadows and they weren't disappointed. Beautiful drone footage of The Meadows property revealed wide open green fields that await site work and construction. Architectural renderings of the project showed beautiful inside and outdoor spaces of the three neighborhoods, along with landscapes and gardens, the restaurant, bar, club house, and fitness area.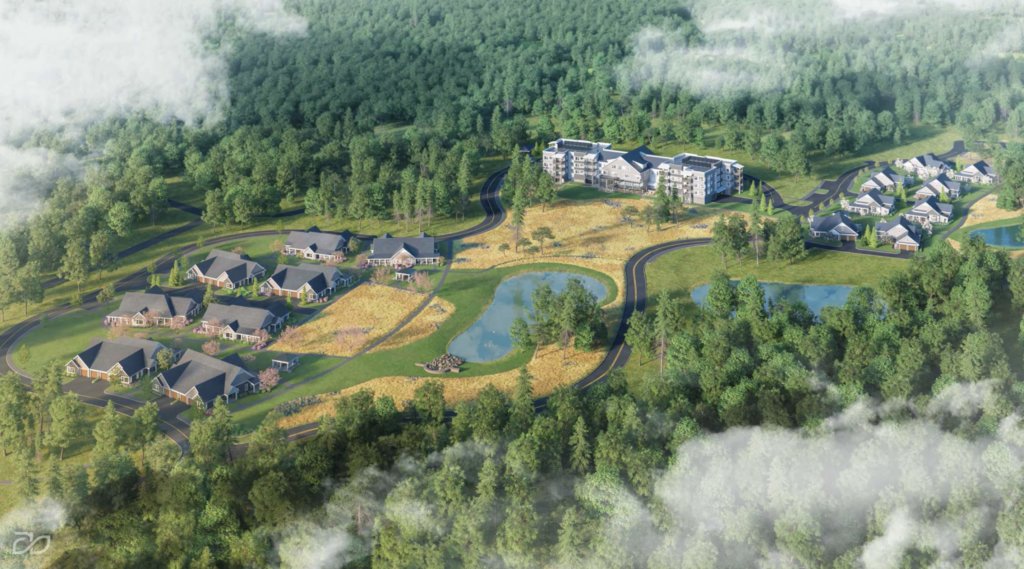 View the Meadows Update Presentation
Piper Shores' CEO Jim Adamowicz also announced that the construction documents are almost complete! These documents encompass a number of major design-related decisions and will allow us to go full steam ahead with the construction phase of the project. While the pandemic has impacted progress, it has also allowed Piper Shores to consider important modifications, such as hands-free access into and out of buildings, improved ventilation and air flow in public spaces, making sure restrooms are touch-free, and increased spacing in public areas, such as the dining room and bar.
"We've worked very hard to develop what we think will be an extraordinary addition to the Piper Shores community," said Jim. "We believe we're ahead of the curve and think the concepts that are being brought to life at The Meadows represent the future of senior housing and lifecare communities."
Adding Trees and New Conservation Lands
The Meadows includes 12 acres of conserved land at the backside of the 45-acre property. This land is in the process of being conserved and will eventually be connected by a trail to the Oceanside campus. This means that between the two properties, Piper Shores will be in custody of 183 acres, with 109 of those conserved in perpetuity. Over the winter, some tree clearing occurred at The Meadows, but more than 500 new trees are expected to be planted on the property over time.
Timing & Financing Terms
The final construction documentation and a "not to exceed" budget for the project will be completed this summer and fall. In the meantime, lots of groundwork has been done for the project's financing. Piper Shores is in a strong position to pursue financing as the community recently received another A- rating from the Fitch Rating service. "This is a significant accomplishment for a single site community," noted Jim, "and it puts us all in an excellent position as we establish our financing."
Construction to Begin in Early 2021
The revised plan is to break ground for The Meadows in the first quarter of 2021 with units ready for move-in 27 months thereafter (in the fourth quarter of 2023). In addition to enabling smart design tweaks, the unexpected delay may work to Piper Shores' advantage from a cost point of view. Prior to the pandemic outbreak, the commercial construction market in southern Maine was very overheated with prices rising steadily. The current economic slowdown may result in a more favorable cost structure for The Meadows when Piper Shores goes to bid this coming fall. With a total of 160,000 square feet of building space in three distinct neighborhoods, there will be strong interest from the construction community.
Pricing Updates
Pricing will be finalized as final construction costs and financing are completed this fall. Interior finishes, including countertops, flooring, and special features will be shared with each resident so homes can be personalized. Upgrades and allowable customizations will be available for an additional cost. You are encouraged to get involved in the customization of your home to be sure it meets with your personal design aesthetic. A number of attractive color pallets and schemes are possible – and artistic renderings will available to help guide these selections.
Following is The Meadows proposed payment schedule for entrance fees:
10% deposit (Wait list deposits already paid will transfer to The Meadows and the remaining amount up to the full 10% of final unit price will be required once final pricing is determined)
40 percent deposit (due as finish and upgrade decisions are being made in 2021-2022)
50 percent deposit (due at closing in fourth quarter of 2023).
Why The Meadows and Why Now?
We believe that future residents of The Meadows will find the scale and scope of this innovative independent living community to be delightful. As a reminder, there are only 52 units allocated among a mix of estate homes, duplexes, and apartments – all designed to encourage friendships among neighbors. Each home features a high level of choice in finishes that can be customized for individual lifestyles. Located just across the street from Piper Shores' Oceanside campus, The Meadows includes a club house with fine dining, a fitness center, a clinic, as well as access to walking trails along adjacent conservation areas. For more information and to inquire, please contact Andrea Killiard at killiardandrea@pipershores.org.